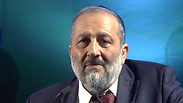 Aryeh Deri
Photo: Avihu Shapira
Interior Minister Aryeh Deri will be questioned again on suspicion of a range of corruption charges, including bribery.

Among other things, the police will investigate allegations regarding Deri's involvement in the election of a candidate for the Chief Rabbi of Lod, who is affiliated with Georgian billionaire Mikhael Mirilashvili and his son Yitzhak.

During a recent High Court hearing on the election, the State Attorney's Office said new information unveiled in the case demanded further inquiry.

For more than a year, Lod has had no state-appointed chief rabbi. Mayor Yair Revivo set his sights on appointing Rabbi Meir Biton, who is of Moroccan descent and affiliated with the Shas movement, while Deri and Shas have been actively pushing for the election of a rabbi of Georgian origin who is affiliated with Mirilashvili.

One of the suspicions investigated is the transfer of large amounts of money from Mirlashvili and his son to an association headed by Deri's wife.

The municipality of Lod claimed Deri and his associates put tremendous pressure on Shas representatives in the city, among others, to appoint Rabbi Yitzhak Mozgarshvili as chief rabbi of the city.

Documents pointing to the apparent connection between Deri and Mirilashvili in the matter were also passed on to the state comptroller in order to show how Deri allegedly sought to help Mirilashvili.

According to testimonies from officials in Lod, some of whom were transferred to the police, businessmen and interested parties spoke with the members of the selection committee and the council members, and tried to influence them to replace their representatives on the committee, so the support would be transferred from Rabbi Biton to Rabbi Muzgarshvili.

Mayor Revivo had previously threatened the Ministry of Religious Affairs that he would petition the High Court if they did not convene the committee to elect the city's rabbi.

Revivo made good on that threat, leading the State Attorney's Office to announce the opening of an investigation.