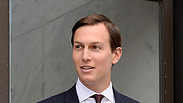 Kushner: 'There may be no solution' to Israeli-Palestinian conflict
In leaked recording, US President Trump's son-in-law and senior advisor sounds uncertain whether the administration could find a 'unique' solution to the decades old conflict; addressing the Temple Mount crisis, he says 'a lot of seemingly logical measures taken that somehow became a little bit incendiary.'
Jared Kushner, the son-in-law and senior advisor of US President Donald Trump, has expressed doubt the American administration could find a "unique" solution that would lead to peace between Israel and the Palestinians, according to an audio recording leaked to WIRED magazine.

While speaking to congressional interns in Washington on Monday, Kushner was asked how he plans to negotiate peace between Israel and the Palestinians and how he plans to succeed where others have failed.

"What do we offer that's unique? I don't know," he responded. "I'm sure everyone that's tried this has been unique in some ways, but again we're trying to follow very logically. We're thinking about what the right end state is. And we're trying to work with the parties very quietly to see if there's a solution."

Kushner talks to interns (Source: WIRED) (WIRED)

He added that "there may be no solution, but it's one of the problem sets that the president asked us to focus on. So we're going to focus on it and try to come to the right conclusion in the near future."

Kushner also said that after doing research on the matter, he determined that "not a whole lot has been accomplished over the last 40 or 50 years we've been doing this."

He expressed his frustration at the fact that "everyone finds an issue, that, 'You have to understand what they did then,' and 'You have to understand that they did this.' But how does that help us get peace? Let's not focus on that ... Let's focus on how do you come up with a conclusion to the situation."

Kushner also addressed the crisis on the Temple Mount. "Look at what happened this past 10 days—a lot of seemingly logical measures taken ... (that) somehow became a little bit incendiary," he said, referring to the installation of metal detectors at the entrance to the Temple Mount after a terror attack at the holy site, a move that enraged Muslims and prompted protests and violent clashes.

"But we were able to calm it down by having a lot of really great dialogue between Jordan and the Palestinian authority and the Israelis," he added.