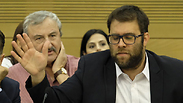 Them's fightin' words: Jordanian MP challenges MK Oren Hazan to fight
Following a perceived insult from an earlier Tweet by Hazan, Jordan MP Yahya al-Saud challenges Hazan to a fight at the Allenby Bridge Border Crossing between the two countries; Hazan barred from attending by PMO, while Jordan MP shows up, vowing, 'I'll confront him anywhere in the world; I'll take a plane right now!'
With tensions between Israel and Jordan still simmering, rabblerousing Jordanian MP Yahya al-Saud decided to turn up the heat by challenging his Israeli counterpart, MK Oren Hazan, to a fight at the Allenby Bridge border crossing.

"If he's a man, then let him come meet me on the bridge," said al-Saud, who made his comments in response to a Tweet by Hazan that he took offense to.

Hazan had earlier Tweeted, "It seems like our neighbors east of the Jordan River—whom we support and stay quiet when it comes to their behavior—are in need of reeducation."

Al-Saud responded by launching into a Twitter tirade, saying, "Israelis are germs that can only be identified through a microscope made by the United States, which protects them. The shoe of every Palestinian child has more respect than the stupid MK Hazan."

Al-Saud, who is chairman of the Palestine Committee in the Jordanian parliament, is no stranger to controversy, having been involved in a previous fight in parliament that escalated to AK-47 gunfire.

Both al-Saud and Hazan became the targets of mockery on Jordanian social media, with one user writing, "We're organizing special transportation to the border. Al Jazeera will broadcast the fight live, we'll sell tickets. If al-Saud loses to Hazan, we'll leave him at the border because no one needs him in Jordan."

Pictures of al-Saud superimposed over a sumo wrestler also circulated around social media, with several users referring to both men as "idiots."

On Tuesday evening, Hazan indicated he was prepared to meet al-Saud at Allenby, saying, "After much thought, I decided to accept the Jordanian parliament member's call for an eye-to-eye meeting on the bridge at ten in the morning. It is my duty to seize this opportunity and try to help facilitate relations between the two countries through direct contact with the other side.

"I will propose to him a joint call to resolve the conflict with his brothers, the Arabs of the territories who define themselves as 'Palestinians,' to return to their homes in Jordan and to exercise their right to national self-determination for one large and powerful Jordan."

True to his word, al-Saud arrived at the Allenby Crossing with reporters in tow, saying, "If this isn't going to be physical confrontation, then there will be no discussions between me and this pig."

Hazan did not make the rendezvous, after being barred from the journey by the Prime Minister's Office. Al-Saud doubled down, telling journalists, "I'll confront him anywhere in the world; I'll take a plane right now. I tell him: Infidel MK, the Jordanian people will never agree to a relationship with the Zionist entity and the Israeli people occupying our holy lands and places."

Hazan issued a statement after he failed to appear at the crossing, saying, "As someone who always yes to peace and no to violence and confrontation, I was on my way to Allenby to meet with my Jordanian colleague. On the way I was asked by Prime Minister Netanyahu not to arrive and out of a sense of responsibility and leadership, I decided to respect his request.

"I admit that I am disappointed. After all, I wanted to talk with him and explain to him that at the end of the day, Jordan is Palestine and Palestine is Jordan. It would be better if he took his brothers and sisters with him—Arabs from the West Bank who call themselves 'Palestinians'—back to their homes in Jordan."

Smadar Perry, Amihai Attali, Roi Kais and Moran Azulay contributed to this story.