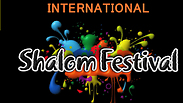 The Scottish Shalom Festival
Photo: PR
Amid BDS threats, Israeli arts festival opens in Edinburgh
Three years after an Israeli theater troupe was thrown out of Edinburgh's high-end theater festival, and with recent pressure and threats from BDS movements looming in the background, the Scottish capital will host the second Shalom Festival, showcasing theater, dance and music performances.
Three years ago, in what was an unprecedented move an Israeli theater group was unceremoniously kicked out of one of the world's most esteemed theater festivals.

The Jerusalem-based Incubator Theater was supposed to perform one of their plays at the festival, but BDS activists disrupted their performances. After exerting pressure on the festival's management, the latter decided—for the first time in the festival's 50 years—to immediately cancel the Jerusalemite group's remaining shows.

Nigel Goodrich, a Christian Scot, looked in abject horror at the Israeli group's removal and refused to let it pass. In response, he founded the Shalom Festival last year, hosting Israeli artists at several Edinburgh cultural venues, simultaneously with the city's famous Festival Fringe. The festival is set to take place again next week and promises to be even bigger.

The festival is organized by Confederation of Friends of Israel-Scotland, an organization with 17 branches administered by volunteers who believe in dialogue rather than boycotts.

The festival was funded by contributions from several private donors and will take place over three days next week (August 8-10). On offer will be music, dance and theater performances, cinema and children's workshops, with an emphasis on Israeli-Arab cooperation in Israel.

The Incubator theater group will put on its play, "The City", on the festival's opening night—the very same play that was booed off stage with harsh anti-Israeli statements just three years ago.

Also performing will be actress Meskie Shibru-Sivan, recounting the tale of her Aliyah from Ethiopia, in addition to the Jamaya group, whose members play world music.


Other guests of the festival will be creators from the "Bustan Avraham" non-profit organization, which promotes interfaith art projects in Jaffa, while spectators will also have the opportunity to view a painting exhibit by Jewish, Christian and Muslim women.

Some of the Shalom Festival's events will be considered an official part of the Edinburgh Festival's lineup, only this time its directors will not be able to boycott or run off Israeli performances like they did three years ago since the festival is partially funded by British taxpayers' money. Indeed, Britain enacted a law 18 months ago forbidding boycotting Israel in any publicly-funded event.

Nevertheless, it seems the Shalom Festival won't enjoy the peace advocated in its name, as BDS activists have already announced their intention to once again demonstrate, sabotage and torpedo any and all Israeli performances. Consequently, the festival's management is undertaking many security precautions to prepare for such an eventuality.

Scotland is considered a BDS stronghold and just weeks before the beginning of the Israeli festival a petition was disseminated, supported by cultural and academic figures, calling to boycott the festival anyway.

The petition is signed by, among others, leading British director Ken Loach and screenwriter Paul Laverty, actor Gavin Mitchell and people from British academia.

"The Israeli festival is part of the Israeli government's efforts to counteract BDS organizations and whitewash Palestinian human rights violations. The Shalom Festival improperly uses one of Hebrew's most beautiful words. There's nothing about this festival offering peace," said the petition's author.

None of this has discouraged the organizers of the Shalom Festival however. Nigel Goodrich, the festival's director, said: "When the festival is over I'll be able to say I did the right thing by Israel, the Jewish people and freedom of artistic expression."

Scotland's First Minister Nicola Sturgeon also gave her blessing for holding the festival.