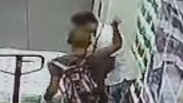 Yavne terror victim's condition stabilizes, but battle for life continues
Further surgery required for man stabbed in Yavne supermarket despite improvements in situation; IDF enters terrorist's family home overnight, confiscates items and interrogates family members; preliminary conclusions indicate he was a lone wolf attacker with no previous connection with terror groups.
A man who was stabbed multiple times in a terror attack in a Yavne supermarket Wednesday is said to be in stable condition, but is continuing to battle for his life as doctors began performing more surgery Thursday morning.

"He underwent surgery on a main artery and he has been been put on ventilation and has been anesthetized," said a family member. "Everyone arrived from different places in the country: Haifa, Hadera, Jerusalem. It is extremely difficult for his wife and children who are (always) crying."

IDF operations in Yatta (צילום: דובר צה"ל)

During the night, IDF soldiers, the Shin Bet and Israel Border Police conducted operations in the Arab city of Yatta where the terrorist, 19-year-old Ismail Ibrahim Ismail abu Aram, lived.

Like his victim, abu Aram also worked in the Shufersal supermarket where he carried out the attack, and was arrested after trying to flee the scene.

Earlier, the IDF also entered his family home where soldiers confiscated various items belonging to the stabber. As they investigated members of his family, it emerged that abu Aram was, in all likelihood, a lone wolf terrorist who had no connection with any terror organizations.

Yatta is known for being particularly hostile and has become a breeding ground for terrorists planning to carry out attacks against Israeli security personnel and Israeli civilians.

Two of the terrorists who last year carried out the deadly Sarona Market shootings in Tel Aviv, which left four Israelis dead and 16 wounded, had lived in a village nearby.






In addition, several other terror attacks have been perpetrated by assailants from Yatta and its vicinity.

Shortly after the attack, the IDF surrounded Yatta, and began conducting thorough checks against every person exiting the city.

The home of the terrorist is not, in the meantime, expected to be demolished since the IDF usually only implements the policy if terrorists cause fatalities.