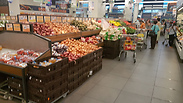 The Yvane supermarket
Photo: Nitzan Dror
Workers at the Yavne supermarket where a 42-year-old worker was stabbed by a Palestinian terrorist on Wednesday embraced each other upon arriving to work on Thursday, and spoke about how they experienced the traumatic event. Meanwhile, Kaplan Medical Center in Rehovot continues to fight for the life of the injured man. He is said to be in stable condition, but underwent additional surgery Thursday morning.

Etti Hasson said that her phone was flooded on Wednesday by acquaintances who knew she was supposed to be at the Yavne branch. "Yesterday I was afraid to come here, but today the level of anxiety has dropped. I came with my daughter and grandchildren and everything is fine," she said.




"I don't feel a drop in the number of customers, but no doubt there is a change in the atmosphere," she added. "When I came in, they checked my bag, which is something they've never done before. I've been shopping here for years and they know me, but even so, they checked my bag. It's definitely a change, but we're still going to come here, because this is our country and this is how we live here."

Aharon Rahimi, a customer of the supermarket for the past 22 years, was not deterred from shopping Thursday morning. "When I heard about what happened yesterday, I was very surprised and felt really bad, but nothing could stop me from coming here," he told Ynet.

Rahimi said that he spoke to some of the women who work there. "They were really traumatized. They were here during the attack and are still in shock," he said.

Flora Mantel, a longtime customer of the branch, said, "Yavne is a small city that isn't usually in the headlines, but the terrorists have arrived here too." She added that she also talked with the workers there.

"I spoke a bit with the butcher, and I feel that people are walking around the branch with a bad feeling in their stomach, each with their own experiences. I decided to arrive this morning because I felt safe."



Other customers who arrived at the supermarket did not hide their concern. "I'm afraid to come here," admitted one. "I came with my husband because I was not willing to go alone."

Another customer added: "It's really hard for me to talk about what happened. I'm here every day, I feel a change in the atmosphere—all the workers are very nervous and quiet, and when I passed through the corridor where the attack took place, I felt a shudder."

Civilians who were on the scene subdued the attacker, with some of them kicking him while he was on the ground, calling on police to "Shoot him in the head!"

One of the civilians who helped subdue the suspect recounted the incident: "I (heard) one of the employees call out 'stop him, stop him.' Another civilian tripped him, and then he and the employee neutralized the suspect. Police officers who arrived at the scene removed them but we still kept (hitting) him. We neutralized him some more until the cops handcuffed him."

Shlomo Brill was an eye-witness to the attack. "My wife and I were shopping. All of a sudden, a man with a backpack and an Arabic accent approached me and asked me if I worked there. I said no, and he kept walking," he recounted. "Ten minutes later, I heard screams from the checkout area. Everyone at the store went crazy. We thought it was a terror attack, we're all stressed out. the cashiers were screaming, the employees were shaking with fear."
An Arab town known for its terrorists
The suspected terrorist, 19-year-old Ismail Ibrahim Ismail Abu Aram, from the Arab town of Yatta, was arrested while trying to flee the scene.

IDF forces raided the terrorist's home after the attack, while he was taken for questioning by the Shin Bet, who learned he was in Israel illegally.

Earlier, the IDF also entered his family home where soldiers confiscated various items belonging to Abu Aram. As they investigated members of his family, it emerged that he was, in all likelihood, a lone wolf terrorist who had no connection with any terrorist organization.

Yatta is known for being particularly hostile and has become a breeding ground for terrorists planning to carry out attacks against Israeli security personnel and civilians.

Two of the terrorists who carried out the deadly Sarona Market shootings in Tel Aviv last year, which left four Israelis dead and 16 wounded, had lived in a village near Yatta.

Several other terror attacks have also been perpetrated by assailants from Yatta and its surroundings. Another prominent terrorist attack, in Rahat, was carried out by residents of the area, during which Shlomit Gonen was stabbed in February 2016 as she toured the local market.

In an additional attack in Kiryat Gat, a terrorist grabbed a weapon from a soldier at a bus stop and was killed in the gunfight that ensued.

Even though the large Palestinian community of Yatta is still referred to as a village, it is really a town with some 50,000 inhabitants, many of whom are pious Muslims affiliated with Hamas.

Yesterday evening, following the attack, IDF forces from the 603rd armored battalion and the Golani Brigade created a "porous" ring around the town, with soldiers checking Palestinians passing through Yatta's main entrances.

The IDF and Shin Bet are investigating Abu Aram's infiltration into Israel and are examining possible explanations. Security forces believe that he crossed the Green Line through a large area in the southeastern part of Mount Hebron, where there is no border fence. The terrorists who carried out the attack in Sarona had passed through the same area on their way to Israel.

Though most of the IDF's activity in this area focuses on preventing the infiltration of illegal Palestinians, it is not hermetic. And yet, according to data from the IDF's Judea and Samaria Division, activity focused on this huge sector has reduced the number of vehicles transporting illegal aliens to Israel from 1,000 to 25.

The defense establishment is also examining the possibility that the terrorist entered Israel via another point in the West Bank.

In an apparent coincidence, the Ministry of Defense announced shortly after the attack that it had completed the construction of a new barrier in the south Hebron hills. The barrier is made up of a 42-kilometer wall, from the Tarqumiyah checkpoint to the Meitar settlement, from which illegal aliens and terrorists have left in the past toward the southern Lakhish Region.