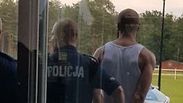 Polish police arrest attacker
Masked soccer hooligans attacked staff members traveling with an Israeli soccer team following a friendly match in Poland, in what the Israeli Embassy said Thursday was an "anti-Semitic incident."

Two men were slightly injured in the attack, which occurred Wednesday evening in Suchocin, a town near Warsaw, following a friendly between the Israeli club Hapoel Petah Tikva and a local Polish club, MKS Ciechanow.

Security footage of the attack

The Israeli club said the assault occurred at a stadium after the game finished, when most of the players had returned to their hotel.

It said a number of fans of Legia Warszawa, a Warsaw club, "emerged from the adjacent forest with their faces covered (and) came on the field and began assaulting a number of staff that had stayed behind."

The Israeli Embassy in Warsaw said it was "shocked and sadden by the news of another anti-Semitic incident."

One Petah Tikva staff member said, "We had a training game against a team from the second division here. As with every game, there were police, just as we asked. The game ended, the players got off the pitch and all of a sudden, the police cruiser left.

"There were some 20 fans from the Warsaw league wearing masks who just rushed the field and started swearing at our players and hitting us. When the players heard the fuss, they ran after the attackers to protect our staff. They caught one of them and the hotel manager called the police and they stopped. They put four policemen in the hotel and we filed complaints with them."

One Petah Tikva said, "It was very scary, it reminded us of very bad films that we sometimes see on television. Our players showed responsibility when we defended our friends. They took us back to the hotel, but no one really wanted to do anything. An Israeli group abroad is always a target."

Poland was home to the largest Jewish community in Europe before the Holocaust. Although the Jewish population today is very small, anti-Semitic incidents occur from time to time.

In one high-profile incident a Polish nationalist burned the effigy of an Orthodox Jew during an anti-migrant rally in Wroclaw in 2015.