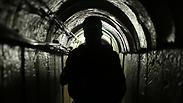 Hamas tunnel
Photo: Reuters
Israel to build underground barrier on Sinai border
With Egypt's inability so far to cripple ISIS fighters in the Sinai Peninsula and expunge its presence from its midst, combined with the terror group's demonstrated appetite for extending hostilities into Israel, Jerusalem prepares for construction of 3 kilometer underground barrier; 'It's fundamental for protecting the communities adjacent to the Gaza Strip.'
Israel is planning to construct a huge underground barrier on its southern border with Egypt and Gaza as a precautionary measure to stave off threats posed by ISIS terrorists seeking to infiltrate via the Sinai desert through tunnels.

Expected to be complete within one-and-a-half years, the new barrier will set Israel back NIS 3.4 billion.

In its first phase, one kilometer only has been approved which will help the IDF identify and locate any tunnels being dug in the Sinai. As the construction continues, the barrier will stretch across a total of three kilometers.

According to Omer Gadi Yarkoni who heads the Eshkol Regional Council, the new protective measure is absolutely necessary for providing security to Israeli residents in the area.

"The barrier is fundamental for protecting the communities adjacent to the Gaza Strip in terms of the threat of tunnels and penetrations into our territory," Yarkoni said.

"We reiterate our concern about the increasing threat on the Egyptian border at every opportunity, and therefore this is a necessary and required step that will ensure maximum protection for our residents who are exposed and affected by the war taking place in Egypt," he continued. "The tunnel threat is a strategic one around the Gaza region and around the whole of Israel."

The barrier will be identical to that which is currently being built along the Gaza border which was approved by the government following Operation Protective Edge upon the discovery of new tactics adopted by Hamas involving the digging of tunnels to infiltrate Israel.

The Egyptian army has been waging a prolonged war of attrition against ISIS in Sinai but has yet to achieve an outright victory and expunge its terrorists from the peninsula.

Indeed, as Egyptian President Abdel Fattah al-Sisi continues to deploy his forces to bombard the terrorists, ISIS, though weakened and depleted, has still proven capable of taking its fight to the Egyptians through multiple deadly attacks and continues to draft more and more activists into its ranks.

While the bulk of ISIS attacks in the Sinai remain focused on obliterating Egyptian morale and al-Sisi's forces, the group has in the past demonstrated an appetite to extend its hostilities against Israel, claiming responsibility for a number of rocket attacks launched on southern Israel.

In February, the Egyptian army destroyed six tunnel openings between Gaza and the Sinai, causing concern in Israel that ISIS does indeed plan to launch terror attacks from a subterranean network.