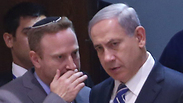 Netanyahu and Harow. State's witness deal indicates the attorney general has crossed the Rubicon
Photo: Alex Kolomoisky
Netanyahu investigations have reached the point of no return
Op-ed: The state's witness deal signed with the prime minister's former chief of staff, Ari Harow, is a game changer. Harow was not just Netanyahu's closest aide in the critical years; he was also part of the family. The prime minister trusted him so much that it's clear he knows everything, especially when it comes to financial issues and the big money. Netanyahu, however, isn't going anywhere yet.
This past Shabbat most likely won't be remembered as the calmest Shabbat in the Netanyahu residence. The weekends at the family home create an aggressive energy and change of positions as it is—at least according to those who see the prime minister in Sunday's discussions. This time, however, the extent of the distress is understandable.

The state's witness deal signed with Benjamin Netanyahu's former chief of staff and close aide, Ari Harow, is not just the game changer in the Netanyahu affairs. It's also a personal-family rift as big as the Great Rift Valley, and the beginning of a realization among the family members that Netanyahu is facing an indictment.

Two things can be said about the new development that took place over the weekend: One, that the agreement with Ari Harow indicates that Attorney General Avichai Mandelblit has crossed the Rubicon in regards to Netanyahu; and two, that the move was affected by Yedioth Ahronoth's interview with Meir Shamgar two weeks ago. A thousand protests outside his home in Petah Tikva can't influence Mandelblit the way the former chief justice, whose opinion carries a lot of weight in the legal milieu, can influence him when he says he expects the prime minister to resign.

Ari Harow was not just Netanyahu's closest aide in the critical years. He was part of the family. A man who gained complete trust, thanks to plenty of qualities which foster trust. But the exact same qualities—reliability, loyalty, discreetness—make him such a perfect state's witness. Netanyahu understands that. He knows exactly where Harow was at his side, at which junctions, where he had his back, and is aware of the weight of the testimony of the closest person to him and to his family, who also held the least rewarding but most important job of pleasing the Netanyahus, of making sure that the king, the queen and the crown prince receive all the pampering they deserve. And it cost money, a lot of money. And Harow, whose admiration for Netanyahu and loyalty to the family members likely undermined his discretion and blurred all his red lines, was in charge of all that money.

Harow is the game changer because he was so close to the prime minister. In 2002, he served as Netanyahu's foreign relations advisor and was in charge of raising donations abroad. A year later, until 2006, he headed the American Friends of Likud organization. Exactly 10 years ago, on July 2007, he returned to Israel and was appointed Netanyahu's foreign affairs advisor. In 2008, he was appointed bureau chief, a position he left in 2010 for medical reasons. He turned to business and founded a private consultancy and business development company.

He returned to the prime minister's bureau about three years later and signed a conflict of interest statement, in which he pledged to cut all ties with the company he founded. Absurdly, despite the suspicions of fraud and money laundering against him, his acquaintances say he is an honest, gentle person.

He isn't considered to be a strong person. When his interrogations began, the common opinion was that he wouldn't withstand the investigation for long, that he was too fragile, that he wouldn't sacrifice himself and go to prison for Netanyahu. If Harow opens his mouth, people said, the prime minister would be in big trouble. Netanyahu's trust in him was so high that it's clear he knows everything, especially when it comes to financial issues, and especially the big money.

Ari Harow signed a state's witness deal because he has stuff to share. He has already shared some things. And if he did give his investigators in the past few months something which justifies such a light punishment for the charges in his case, Netanyahu can now be seen as a dead man walking.

The likelihood that there will be some kind of plea bargain with Netanyahu in the illicit gifts Case 1,000—receiving illicit gifts from rich donors—is very small, as is the possibility of some kind of major agreement with the attorney general that Netanyahu will resign and that, in return, the cases against him will be closed. It's unlikely that the State Attorney's Office saved a person from criminal charges so he would testify against another person, if it plans to reach a deal with the main culprit.

There are likely more serious cases among the many cases being investigated by the police—like the submarine affair, for example. But in terms of the effect on the prime minister's future and on the entire political system, turning Ari Harow into a state's witness in Case 1,000, and likely in Case 2,000 (the Netanyahu-Mozes affair) too, is the most significant development.

In any event, we should hold back on the celebrations, or the mourning ceremonies—depending on the eye of the beholder. Unless he's undergone a metamorphosis and is going to announce his resignation tomorrow morning, Netanyahu isn't going anywhere yet. Knowing him and his family members, they will have to be dragged out of the prime minister's residence with a power shovel.

We'll keep hearing the mantra "there will be nothing because there is nothing" for a long time, even if Netanyahu is indicted and faces serious charges. After all, Netanyahu and mainly his wife, Sara, believe they are entitled to everything.

A bribe? Gifts worth hundreds of thousands of shekels? Why, the State of Israel should be grateful to Netanyahu every single day for his willingness to be its leader. After all, he could have been the president of the United States.

Resign? Don't make them laugh. Even Justice Minister Ayelet Shaked thinks Netanyahu shouldn't resign even if he is indicted. As far as Shaked is concerned, the prime minister can spend every day in court dealing with bribery, fraud and breach of trust allegations, and deal with the state's affairs at the same time—as long as she gets to keep her job.

On Saturday evening, in Channel 2's "Meet the Press," she slightly eased her stance: A big step for her, a very small step for the legal system. Not to mention Netanyahu's friends in the Likud, who are trembling at the thought of elections, and the coalition leaders—each with his own reasons—who would keep supporting Netanyahu's government even if he were charged with murder.

The political interest, or as late Prime Minister Ariel Sharon called it—the smell of the buckskin seats—is stronger than any other argument. No one wants elections now, and those who do want elections—those who see themselves as potential candidates to replace Netanyahu—don't have the courage to rock the boat.

As Coalition Chairman David Bitan told Channel 2 News on Friday evening, we'll settle matters with whoever speaks against the prime minister in the primary elections. And there's no one crazy enough to ruin their primaries, especially when they know who they're dealing with: This prime minister has already proved his stamina, his survivability, and who knows how long he'll still be around.

And they better not rely on the Likud public. Whoever thinks that the recent revelations will make Likud supporters take to the streets and call for their leader's replacement, should check social media, where the trial is basically taking place—and the more he is oppressed, the more we will multiply and expand. The state's witness, Ari Harow, is referred to there (and on Channel 20) as Judas Iscariot, no less.

So we are left with the legal channel. If that's the case, take a deep breath. It will take months before we reach the court. If you don't believe it, look at how long it took before former President Moshe Katsav was prosecuted, before former Prime Minister Ehud Olmert was prosecuted, before it was decided not to prosecute Defense Minister Avigdor Lieberman.

When it comes to a prime minister whose interest is to play for time, study the cases, agree on a date for a hearing before an indictment, and another hearing—it's probably too early to make any plans for the next year and a half.