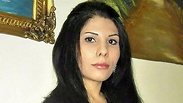 Israel offered asylum on Sunday to a Turkey-based Iranian blogger who it said faced forcible deportation to Iran, where she would be at risk given her work for an Israeli news site.

Neda Amin, a Persian-language blogger who writes in English and other languages for an Israeli news site, left Iran in 2014 for Turkey. She has been in a court battle to prevent her repatriation and has sought other countries that might take her in as a refugee, the site said.

Hostility between the two countries means that Iranians are generally not admitted to Israel.

But following appeals by Israel's journalist federations, Interior Minister Aryeh Deri said he would issue 32-year-old Amin a special visa.

"This is a journalist whose life is in real danger," Deri said in a statement. "Given the clear humanitarian circumstances, I authorized her entry without delay."