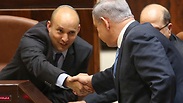 Bennett and Netanyahu
Photo: Noam Moskovich
Bennett comes out swinging for PM in corruption probes
Putting past feuds aside, Bayit Yehudi leader states his unequivocal support for the beleaguered prime minister as investigation authorities tighten the noose in preparations to possibly indict Netanyahu; 'A national right-wing government is necessary for Israel's security.'
Education Minister and Bayit Yehudi Chairman Naftali Bennett came out in support of Prime Minister Benjamin Netanyahu Sunday following developments in multiple investigations against him and the signing of an agreement with his former chief of staff and confidant Ari Harow.

"The State of Israel needs stability and we support this national government and are committed to its continued operation. The prime minister has the presumption of innocence and I hope that the investigation will end without an indictment," Bennett wrote in a statement.

The deal with Harow was signed Friday which will see him become a state witness in a string of ongoing probes against the prime minister involving alleged corruption and bribery.

"I have full confidence in the law enforcement authorities and in the attorney general, without political pressure and unnecessary demonstrations," Bennett continued. "A national right-wing government is necessary for Israel's security and we will continue to lead this way until elections.

"The public that sees us as the national leadership of Israel expects us to act responsibly and in a stately manner."

Former minister Gideon Sa'ar also issued a statement about the investigations against Netanyahu.

"I hope and wish for the prime minister to be freed from this siege. There is no reason for the prime minister to resign from his position, and it is anyway not right for him to do so," Sa'ar wrote on his Facebook page.

"I cannot finish without saying in the clearest possible terms: The responsibility is to avoid attacks on the law enforcement systems doing its work."

Other Likud party members and prominent lawmakers wrote a letter to Netanyahu urging him not to succumb to any pressure to step down. "Don't resign even if an indictment is served against you," wrote Bayit Yehudi MK Bezalel Smotrich and Minister Uri Ariel.

"The decision on the future of the State of Israel should be accepted by the citizens of Israel at the ballot box, not by journalists and by frustrated opposition members who have already given up on the chance of returning to power and winning over the masses," the letter continued.