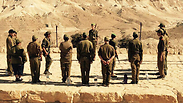 IDF to start drafting students during military prep week
Instead of sending draft orders to 11th grade students and plucking them out of their school year for a battery of tests ahead of their conscription, the army will now start doing so during their 'Gadna' week, where they first learn about the army life.
The Education Corps and the Personnel Branch of the IDF are currently advancing an initiative to, for the first time, send Israeli draft orders to teens in 11th grade during attendance at their pre-military preparation week.

The first to experience the combination of these two experiences are thousands of high school students who are scheduled to spend the military prep week—in Israel known as Gadna—at the Hahava Alon base in the Galilee in the coming school year.


If the pilot succeeds, the army will expand the initiative to Gadnas in other IDF bases.

If the change take effect on a broader basis, the future soldiers will not be required to report, in the middle of their daily lives as high school students, to attend interviews, examinations and other forms of sorting processes.

The IDF explained that the initiative was pushed for several reasons.

First, to enable the future draftees to arrive at the initial tests more prepared and willing during the days of their stay at the Gadna base.

Second, to avoid pulling them out of their daily lives, sometimes forcing them to miss a school day, or a day of preparation for the matriculation exams.

Third, to reduce the pressure on old-fashioned induction centers, some of which are undergoing extensive renovations at this time.

Fourth, to avoid the common scenario where draftees "skip out" on their first summons and come to the induction center only after they receive their second or third summons.

"Instead of the youth coming to us, the army wil come to them," the IDF explained. "The Gadna non-commissioned officers will encourage the youth to serve in a meaningful manner and will explain to them the importance of their first induction center testing and its influence on their future in the IDF."

Every year about 28,000 high school students are hosted in the IDF during the Gadna weeks. The demand to participate in this weekly activity increases from year to year in schools, but some are rejected by the army because of the lack of facilities to host them in. Some high school students maintain high motivation for combat units and therefore their students are not sent to Gadna.

In the past year, the IDF began to carry out special Gadna courses in combat bases, in which more than 1,200 high school students have participated. This move is expected to expand in light of the high demand alongside special Gadnas that are opening this year for Arab youth, both Muslims and Christians.