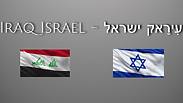 In light of terrorism, support for Israel in Iraq rises
The Israeli Foreign Ministry is surprised to receive thousands of messages from Iraq in support of Israel in light of the crisis on the Temple Mount and recent terror attacks, with Iraqis saying they 'recognize the State of Israel,' and even calling Palestinians 'traitors and terrorists.'
Against the backdrop of the events on the Temple Mount and the recent terrorist attacks, the Foreign Ministry in Jerusalem was very surprised to see a dramatic increase in the number of Israel sympathizers in Iraq.

Yonatan Gonen, head of Arabic-language digital diplomacy at the Foreign Ministry, who also runs the Foreign Ministry's Facebook and Twitter accounts, said that the ministry has been flooded with pictures and messages of sympathy, support and even a desire to establish relations between the two countries.


In addition, several new Facebook pages were opened, and even an Arabic-language website was created to bring Israelis and Iraqis together.

The reactions include harsh criticism of "the hypocrisy of the Arab peoples," with an emphasis on the Egyptians and the Jordanians, whose countries have signed a peace treaty with the State of Israel.

One of the main arguments raised by the respondents on the matter is that if they oppose normalization with Israel, they should act to cancel the peace treaty with Israel before they start complaining. Another central argument is based on the approach that normalization with Israel is not shameful, as long as the interests of both countries are preserved.

At the same time, some respondents admit that the desire to establish relations with Israel does not stem from their love for the country, but rather from their disappointment with the Arab states and their desire to eliminate terrorism in their country.

For example, Zaid, from Baghdad, wrote to the Israeli Foreign Ministry, "All the Iraqis are with you, not necessarily out of love. Israel did not (even) throw stones at us while the Muslim Brotherhood sent suicide bombers and financed them to fight us."

Abdullah Bassem from Baghdad wrote, "A message from Baghdad to Tel Aviv: We recognize the State of Israel—the chosen and the victorious people. Fakestinians (a derogatory term for Palestinians) are traitors and terrorists. We, as Iraqis, will be happy to visit Israel and welcome a visit by Israelis to their second homeland, the great nation of Iraq."

Bader from the city of Basra wrote, "The Iraqis have suffered for years, while the Israelis have been refusing to accept terrorism for decades. The Palestinians must be expelled to countries that adopt and teach death and destruction."

The Foreign Ministry's digital staff responded to Bader, saying, "We share your courageous view and know that you have suffered. We are in the same boat as far as terrorism is concerned and hope that Iraq's sons will enjoy security. As for your advice, we will never expel anyone, because we are all from the same region and there is no escape from living together. We believe in peace in the region."

An interesting and recurring point in the reactions of the Iraqis who wrote to the foreign ministry is that the State of Israel is an existing reality and a fait accompli, and it is a shame to waste energy and resources in an attempt to change this reality. Quite a few even wrote that the Iraqi people are tired of killing and bloodshed, and that normalization with Israel will promote Iraq economically and help rebuild it.

Many have also harshly criticized the Palestinians as "ungrateful," after reports that no less than 1,200 Palestinians have committed serious attacks on Iraqi soil and killed hundreds of Iraqi people. Individual responders even went so far as to say that if the Al-Aqsa Mosque was controlled by the Palestinians, it would become an arena of terror attacks and bloodshed.

On the other hand, there are Iraqis who told the foreign ministry that every self-respecting Iraqi is committed to fighting Israel and to "liberating Palestine and Jerusalem."

Bashir, for example, wrote, "I, as an Iraqi, think that hostility to Israel is a duty just as we must fast and pray. The victory of our Palestinian brothers is a must. We— Sunnis and Shiites, Christians and members of all ethnic groups—love Palestine."

"It seems that the Iraqi people are divided on the matter, but the very fact that such opinions are voiced openly and without fear indicates that this is not a negligible phenomenon," said Gonen. "It is clear that if such opinions were uttered 20-30 years ago, the people who expressed them would be probably hanged."

A source in the foreign ministry added, "We hold on to it like breathing air, because it balances all the curses we absorb every day, hour, minute and even second."

In the past month, a group of Iraqi citizens have opened a Facebook page under the name "Iraq with Israel," one of whose stated goals is to establish relations between the two countries and promote dialogue and discourse.

Among other things, they wrote, "We are a group of Iraqi citizens who call for opening channels of civil cooperation between us and Israeli citizens. To this end, we launched a campaign to support the security of the State of Israel."

"First and foremost, we firmly condemn all terrorist attacks against Israeli civilians," they added. "As a country that has suffered and is still suffering from terrorism, we are aware of the great pain these attacks cause. Despite the tangible risk to us in managing this campaign, thousands of Iraqi citizens have joined it so far."

In addition, an Iraqi website called "Project Bright Future" was opened, calling for the establishment of diplomatic relations between Israel and Iraq, under the motto "Iraq and Israel are allies."