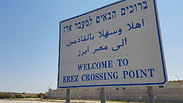 Erez Crossing
Photo: Roee Idan
New Israeli restrictions on Palestinians exiting the Gaza Strip, including a ban on laptop computers, hard-shell suitcases and even shampoo and toothpaste, have further disrupted travel for the few who are allowed to cross the border into Israel.

Israel is citing unspecified security concerns as the reason for forcing engineers, journalists, business people and human rights workers to leave their electronic work tools behind.

"My work laptop that has all my work files that I can't take back with me is a big problem for me," said Ahmed Abu Shahla, an employee of an intellectual property firm in the United Arab Emirates who was returning to the Gulf after visiting relatives in Gaza.

Israel has in the past stated its fears that explosive devices could be smuggled in using such electronic items. Such bans and restrictions have been enacted in the US and EU countries due to intelligence indicating that terror groups such as ISIS have used them to smuggle explosives.

As Shahla boarded a bus at the border, he was forced to leave his laptop behind. He said he didn't bother to put his projects on flash drives because he feared they would be confiscated.

"My loss is high because you have to move all the data by email or any other means which is almost impossible," he said. "This affects you in all directions, professionally, unfortunately." Shahla is just one of the Gaza residents paying the price for Hamas-encourgaed terror activities against Israel.

The ban, which took effect on August 1, applies to all Palestinians who want to travel to Israel, or through Israel to the West Bank and neighboring Jordan. With Israel and Egypt maintaining a tight blockade on Hamas-ruled Gaza, the Erez crossing is virtually the only way out of the territory.

Israel and Egypt imposed the blockade after Hamas won parliamentary elections in 2006 and proceeded to violently cleanse the coast territory of forces loyal to the internationally recognized government of Palestinian President Mahmoud Abbas.

Israel, the US and much of the West consider Hamas a terrorist group, and Israel says the blockade is needed to isolate Hamas and prevent it from smuggling in weapons.

The Rafah crossing on the Egyptian border has traditionally been Gaza's main gateway to the outside world. But Egypt keeps the crossing closed for months at a time, also citing fears of terrorists who could penetrate into its territory. The last time it opened for travelers was in March, and tens of thousands of people are on waiting lists to travel once Egypt opens the crossing.

The Egyptian closure has made Israel's Erez crossing vital to Gazans who need to travel abroad for business, medical care, studies or to see relatives.

Yet Israel, accusing Hamas of trying to exploit travelers to carry money or information to its agents abroad, has imposed a series of restrictions in recent years that has limited the flow of people across the border.

Israel allows only small numbers of people in special categories, such as students, aid workers and medical patients, to cross through the border, and all travelers go through a heavily fortified terminal where they pass through scanners, can have their luggage opened and can be searched.

In recent years, Israel also has called in hundreds of people for day-long interviews with security agents before granting them travel permits, so high has the level of fear become.

The restrictions mean that the vast majority of Gaza's 2 million residents remain trapped in the impoverished territory as its Hamas rulers use masses of funds for terror purposes, thereby neglecting their subjected population. Small numbers of merchants and aid workers—the engines of what remains of Gaza's economy—along with medical patients and other humanitarian cases are the people who usually use the Erez crossing.

The new Israeli guidelines, outlined in an email obtained by The Associated Press, set out strict restrictions on electronics, baggage and personal items.

For Palestinian merchants, aid workers or travelers headed to Jordan, "Personal mobile phones only, no food stuff or toiletries allowed," says the email. Food is also banned, except for medical patients that can take food for "personal consumption."

The email was sent on July 19 to international aid organizations that operate in Gaza and was signed by an officer with COGAT, an Israeli defense body that enforces policies toward Palestinian civilians.

An updated email the next day showed that these procedures are applicable on people exiting Gaza, not entering it.

Foreigners were exempted from the restrictions.

COGAT said the new rules were ordered by Israel's Shin Bet internal security service. In a short statement, the Shin Bet said travel regulations through Erez were updated recently and that exceptional cases can be tested "case by case." The agency provided no reason for the ban.

Shai Grunberg, a spokeswoman for Gisha, an Israeli advocacy group pushing for Palestinian freedom of movement, said there was no clear explanation for the change in policy.

"Security checks are conducted, understandably, in transit stations around the world. This new directive is punitive, damaging, and must be stopped immediately," she said. About 6,500 Gazans pass through Erez each month, about half the year-earlier level, according to Gisha.

The measures have caused an outcry among Palestinian too.

"These restrictions are aimed at harassing people and we reject them because Israel already has the best checking and security screening technology," said Walid Wahdan, spokesman for the Palestinian Civil Affairs Ministry, which carries out civilian coordination with Israel. "These suitcases are used in all airports and terminals. Why they are banned here?" he said.