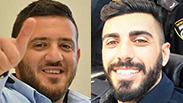 Relatives of policemen murdered at Temple Mt.: 'We are not looking for revenge'
Tensions rose between Druze and Muslim communities following the killing of Druze policemen, Staff Sgt. Maj. Ha'il Satawi and Staff Sgt. Maj. Kamil Shnaan, at Temple Mt. terrorist attack; however, the situation has since calmed down, with murdered policemen's relatives stressing, 'They were murdered due to political, and not ethnic motivations.'
Tense days between Muslims and Druze followed the terror attack at the Temple Mount, where Druze police officers Staff Sgt. Maj. Ha'il Satawi and Staff Sgt. Maj. Kamil Shnaan were murdered by three terrorists from Umm al-Fahm. At the height of the tension, stun grenades were thrown into two mosques in the village of Maghar, where Satawi lived. After several attempts to undermine relations between Druze and Muslims, clerics were able to calm things down.
Several top officials visited the mourners following the deaths of their loved ones. Among them was President Reuven Rivlin, US Ambassador to Israel David Friedman, Minister of Internal Affairs Gilad Erdan and Police Commissioner Roni Alsheikh.
Referring to the tension that arose following the attack that took the life of his son Kamil, Shakib Shnaan said Thursday that "there is no tension, they came to comfort us from all the villages, including from Umm al-Fahm. I am absolutely not prepared to generalize and accuse Muslims. We are not looking for revenge, of God forbid to accuse an entire nation and religion. I call on everyone to respect the law."
Said Sattawi, the cousin of the murdered policeman, said that "the two dead were murdered not because they are Druze, but because they are policemen who work at the Temple Mount . The murderers killed them in the holiest place, where no weapons are allowed."
Baha Hanna, a resident of Maghar, said, "Both communities must always bring hearts closer. We are all one people and we must be together and eradicate any phenomenon that tries to destroy our good relations."
A Druze woman from Hurfeish stated that "it is true that there was tension, but thank God we passed that period. This is not the time to confront our Muslim brothers, we do not have to punish an entire community for a sick act that was carried out by three murderers."
Almost a month has passed since the attack. Shakib Shnaan related that the family "is coping with the loss and trying to return to normal life, but it is almost impossible, because so many people come to offer their condolences." He added that "it's still difficult to process it. We hope the situation will change, and that they were the last of the victims of this conflict."