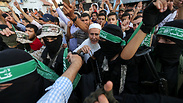 A Hamas military procession in Gaza
Photo: Reuters
Hamas considering replacing civilian rule in Gaza with military rule
Military wing of terrorist group Hamas presents political leadership with dramatic proposal that would create governmental vacuum in Gaza Strip; according to proposal, Hamas will relinquish civilian control, thereby ruling through military rule alone; proposal's goal seemingly to pressure PA Pres. Abbas to lift sanctions and avoid military escalation.
Hamas is reportedly considering advancing an unprecedented move in the Gaza Strip in response to the harsh sanctions imposed on it by the Palestinian Authority. This is a scenario that has been taken into account in Israel and could lead to chaos in the Gaza Strip. A source within Hamas said that the organization's military wing recently submitted a proposal to the organization's political leadership, suggesting Hamas create a political and security vacuum in the Gaza Strip by waiving its management of the Gaza Strip.

In such a scenario, Hamas will not hand the reins of power over to the Palestinian Authority, but implement a four-part plan that will create a vacuum in the Strip that could lead, among other things, to a new military confrontation with Israel.

The plan details that after Hamas relinquishes its political rule over the Gaza Strip, Gaza Police will continue to function together with local institutions that will provide services to Gaza residents. At the same time, security forces in the strip that are subordinate to Hamas will carry out civilian missions but not security ones. Hamas's military wing would then fill the security vacuum in Gaza, by assuming control over the region's security and deploying its forces throughout the territory, along with the smaller military forces of other factions.

The proposal is perceived as a threat to Abbas, as it pushes to create a military regime in Gaza without civilian rule, a reality that could easily devolve into unbridled violence. Hamas is apparently also aiming to have Arab countries pressure Abbas to lift sanctions off the Gaza Strip, in an effort to prevent a possible military escalation against Israel.

The sanctions imposed by Abbas against Hamas in recent months include halting the delivery of diesel fuel to Gaza's power plant, halting payments to Israel for the electricity consumed in Gaza, the cessation of salaries by the Palestinian government to many government officials in Gaza, the reduction of medication deliveries to hospitals in the Gaza Strip, and a reluctance to pay for the passage of patients from the Gaza Strip to Israel, in addition to funding their stay in Israeli hospitals.

The sanctions on the Gaza Strip come following Abbas's demand that the Hamas-led governance of the Gaza Strip be dismantled: since the governance serves as a sort of shadow government in Gaza, Abbas's ultimate goal in the matter is for Hamas to relinquish its governing powers and transfer sovereignty to the Palestinian Authority.