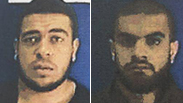 Two Israeli-Arab brothers from Umm al-Fahm have been arrested and indicted for supporting ISIS, according to the Shin Bet, which cleared the information for publication Friday morning.

The two brothers—Mahmoud Jabarin, 25, and Naim Jabarin, 20—were arrested in July in a joint operation involving the Shin Bet and police.

During the course of a search at the brothers' residence, a Carlo submachine gun was also discovered hidden in the attic.

Authorities had received information that the elder Jabarin brother, Mahmoud, had intended to travel to Syria to join the organization. To that end, Jabarin was in contact with an ISIS recruiter in Syria who was also a former resident of Umm al-Fahm.

In addition to discovering numerous photographs, videos and other ISIS propaganda, the younger brother, Naim, is also alleged to have pledged loyalty to ISIS leader Abu Bakr al-Baghdadi.

The State Attorney's Office filed an indictment with the Haifa District Court against the two brothers on Friday morning for contact with a foreign agent and illegal possession of a firearm.

The Shin Bet issued a statement on the arrests and indictments, saying, "The Shin Bet views Israelis who support the Islamic State organization as a serious security threat, especially those who are in contact with organization operatives and desire to fight in its ranks.

"As such, the Shin Bet will continue to monitor suspects and take the necessary enforcement measures to prevent the dissemination of ISIS ideology in Israel and prevent Israelis from fighting with the organization."

ISIS is currently in widespread retreat and has been suffering a string of defeats on the battlefield. This reality stands in stark contrast to the image the organization is attempting to portray in an effort to recruit more potential combatants to its ranks.