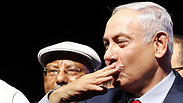 Likud plans on showing PM more love via additional protests
Following pro-Netanyahu rally, MK Bitan plans on organizing weekly demonstrations against anti-corruption rallies held next to the AG's house in Petach Tikvah; polls published Thursday find that Netanyahu's speech did not convince the public.
Tuesday's support rally for Prime Minister Benjamin Netanyahu, organized by Coalition Chairperson MK David Bitan, was apparently only the beginning, as Bitan stated on Thursday his plans to organize weekly demonstrations against the anti-corruption rallies that have been held in front of Attorney General Avichai Mandelblit's house in Petach Tikvah every Saturday.

Netanyahu's "coup speech" at his own support rally raised the wrath of the opposition, which saw it as Netanyahu threatening law enforcement authorities. The ruling Likud party, however, is convinced that Netanyahu's show of power created an effect that would reverberate for a long time .




Referring to his plans to protest the protestors, Bitan said, "We will not allow those who exert unacceptable pressure on the attorney general one minute of rest."

According to surveys published on Channel 2 and the Israeli Broadcasting Corporation Thursday night, the public was not particularly convinced by Netanyahu's speech, though nearly half of the respondents agreed with his claim that the media was against him. Only 11 percent said the speech strengthened their faith in Netanyahu; more than a quarter of the respondents—27 percent—said it had weakened him; and half said it had not made them change their opinion of him.

48 percent of the public said they do not agree with Netanyahu's accusations that the media is running a campaign against him, compared to 42 percent who agreed with him on the matter. Respondetns to the Israeli Broadcasting Corporation survey said that Netanyahu should resign if he is indicted.

The press council issued a harsh statement following Netanyahu's speech, warning that "the repeated labeling of the media as an enemy plotting a coup is a danger to the democratic character of Israeli society," and that this could cause real damage to the press and journalists. "We will mention the obvious: the investigations are being carried out by the Israel Police, accompanied by the State Prosecutor's Office and the attorney general. The press will continue to report on them, as they exist, because it is our duty to the public."