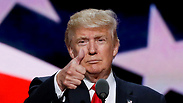 Trump to send envoys to Middle East to discuss peace between Israel and Palestinians
US Pres. Trump is to send son-in-law Kushner and negotiator Greenblatt to the ME in near future to meet with regional leaders and discuss a 'path to substantive Israeli-Palestinian peace talks'; WH official relays Trump 'reaffirms peace between Israeli and Palestinians can only be negotiated directly between the two parties.'
US President Donald Trump is sending his son-in-law Jared Kushner and negotiator Jason Greenblatt to the Middle East soon to meet with regional leaders and discuss a "path to substantive Israeli-Palestinian peace talks," a White House official said on Friday.

Deputy national security adviser Dina Powell will also be on the trip, which will include meetings with leaders from Saudi Arabia, the United Arab Emirates, Qatar, Jordan, Egypt, Israel and the Palestinian Authority, the official said.

"While the regional talks will play an important role, the president reaffirms that peace between Israelis and Palestinians can only be negotiated directly between the two parties and that the United States will continue working closely with the parties to make progress towards that goal," the official said.

The statement additionally said Trump "believes that the restoration of calm and the stabilized situation in Jerusalem after the recent crisis on the Temple Mount-Haram al Sharif has created an opportunity to continue discussions and the pursuit of peace that began early in his administration."

The three emissaries are to meet leaders from Saudi Arabia, the United Arab Emirates, Qatar, Jordan, Egypt, Israel and the Palestinian Authority "about how best to support the peace effort."

Nabil Abu Rdeneh, a spokesman for Palestinian President Mahmoud Abbas, welcomed the impending visit.

"We are committed to peace based on the two state solution." he said. "We informed the American Administration that we are ready for peace on this basis. And we are waiting now for the American delegation to work together toward peace."

Meanwhile, Russian Foreign Minister Sergei Lavrov said Friday that his country would also be committed to Israel as part of the negotiations with the Palestinians, adding that "in any case of discussing the future of Jerusalem, Russia will take into account Israel's interests."

Kusher had visited Israel back in June, hurrying to pay his condolences to the family of Hadas Malka, who was murdered in a Jerusalem terrorirst attack, before meeting with Palestinian Authority President Mahmoud Abbas regarding reigniting the peace talks with Israel.

Despite his visit, while speaking to congressional interns earlier this month, Kushner expressed doubt the American administration could find a "unique" solution that would lead to peace between Israel and the Palestinians, according to an audio recording leaked to WIRED magazine.

After being asked how he plans to negotiate peace between Israel and the Palestinians and how he plans to succeed where others have failed, Kushner wondered aloud, "What do we offer that's unique? I don't know.

"I'm sure everyone that's tried this has been unique in some ways, but again we're trying to follow very logically. We're thinking about what the right end state is. And we're trying to work with the parties very quietly to see if there's a solution."