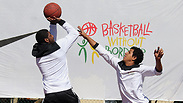 Basketball Without Borders
NBA heads to the Holy Land to develop talent, promote values
Some 60 of the top Under-17 basketball players across Europe will participate in Basketball Without Borders program and will get to train under current and former NBA players and coaches, including Israel's Omri Casspi, a new member of the champion Golden State Warriors.
The NBA is heading to the Holy Land this week, bringing together some of the top emerging talent from across Europe as part of the league's push to attract more foreign players and expand its global reach.

An NBA delegation, led by Commissioner Adam Silver, is in Israel as part of Basketball Without Borders, a program that hosts training camps for top teenage players throughout the world. The visit comes at a time when Silver is seeking ways to make improvements to a league that, while enjoying a surge in popularity, has seen its product impacted by the dominance of a handful of teams and a recent trend of healthy superstars skipping games to rest.

In an interview, Silver said the program aims to give players who have a legitimate chance of reaching the professional ranks a cultural and athletic experience that would be hard to match.

"It's a realization that in order to develop as an elite player at a relatively young age, you need to begin competing against other elite players. And also you need the benefit of top notch coaching," he said.

Some 60 of the top Under-17 players across Europe will participate—including 40 boys and 20 girls. They will get a chance to train under current and former NBA players and coaches, including Israel's Omri Casspi, a new member of the champion Golden State Warriors, and Hall of Famer David Robinson, as well as leading figures from European basketball.

Off the court, the program also promotes cultural awareness.

"Whatever region we're in, we educate the young folks about what's happening socially, politically, economically in the area they are in," Silver said. "It's life skills in addition to basketball. It's about the values of the game, like leadership and discipline and hard work and respect for each other."

Toward that goal, the program will sponsor a series of clinics and workshops for local youngsters that will include Israeli Jews as well as members of the Muslim, Christian and Druze minorities. Palestinian children from the West Bank will also be participating, Silver said. On Sunday, for instance, the program will dedicate a new "learn and play" center at Jerusalem's YMCA.

"We look for regions where we can have a bigger impact than just the game of basketball," Silver said. Earlier this month, the program held a similar camp in South Africa.

"What we'd like to see is using basketball to build bridges between cultures," he said. "I think it really is true that people, whether on a basketball court, or it's on a soccer pitch, when they compete together they see how much they really do have in common. In this case, it's a shared passion for basketball."

Basketball Without Borders, a partnership with FIBA, the world's governing basketball authority, has held camps in 26 countries since it was launched in 2001. This is the first time Israel, which is part of FIBA's Europe region, has hosted the program. Forty-six former campers, including Casspi, have been drafted by NBA teams.

"I was a BWB camper in 2005 in Italy. To be a part of BWB now in my home country more than a decade later and to have the opportunity to work closely with these talented youth at the camp and conduct events in the community, is truly an amazing experience," Casspi said. "I think the kids will have a fantastic time here while pursuing their dreams at BWB the next couple of days."

The program is part of a push that has turned the NBA into a global sports powerhouse, second only to soccer.