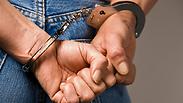 Illustration
Photo: Shutterstock
Mohammed Abu Khdeir, 22, the cousin of the 16-year-old boy of the same name who was murdered in 2014 by Jewish extremists, and two other residents of the Shuafat neighborhood in east Jerusalem were charged Monday with planning attacks against Israeli security forces.

The Jerusalem District Attorney's Office filed an indictment against Abu Khdeir and his two accomplices, Abbas Salahi and Amro Ma'atouk, for multiple security offenses, including active membership in the Popular Front for the Liberation of Palestine (PFLP), which is desginated as a terror organization by Israel, the United States, Canada, Australia, and the European Union.

The three were indicted for conspiring to commit murder, attempting to illegally purchase weapons, possession of arms, shooting in residential areas, attempting to attack policemen, rioting and other offenses.

According to the indictment, the three met on several occasions between March 2017 and their arrest in July 2017 and conspired to carry out attacks against Israeli citizens.

Among other things, the defendants planned to carry out a shooting attack against Israeli vehicles traveling on the Nablus bypass and plant explosives on it. In addition, on several occasions, the defendants participated in riots and stone throwing at Israeli military forces.

Abu Khdeir has three previous convictions for rioting, attempting to attack police officers, vandalizing a vehicle and endangering human life. He already spent time in prison, and in 2015 he was sentenced to probation, which he is set to serve should he be found guilty of any of the aforementioned crimes.