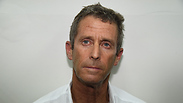 Benny Steinmetz
Photo: Yair Sagi
Billionaire Steinmetz lashes out at gov't, George Soros in remand hearing
Benny Steinmetz, who is suspected of bribery and money laundering, slams Israeli government for behaving in a 'totalitarian' and 'dictatorial' manner, while also accusing Hungarian billionaire George Soros for targeting him and other suspects in the case.
Billionaire diamond-magnate Benny Steinmetz and his business consultant Tal Zilberstein—two suspects arrested in an international money laundering scheme—had their remand extended until August 17 in a hearing in Rishon Lezion Magistrate Court Monday afternoon.

Police had originally requested an eight-day remand extension in order to avoid any disruptions to the investigation.

This current affair is related to a previous case in which the National Fraud Investigations Unit conducted an inquiry into Steinmetz for bribing a foreign public official and money laundering.

The investigation found that Steinmetz, through his company BSGR, provided millions of dollars in bribes to the former president of Guinea and his wife in exchange for mining concessions from 2006-2012.

Presently, Steinmetz, Zilberstein and several other suspects are suspected of systematically laundering millions of euro by way of fraud and document forgery through a variety of nations, including Romania.

During the remand hearing, representatives of the National Fraud Investigations Unit requested that Steinmetz's brother-in-law and his daughter's partner be removed from the courtroom as they are currently both under investigation.

According to Superintendant Avshalom Ahrak, there were significant and dramatic developments that were presented to the judge. "There is new evidence—including witnesses and documents—that implicates Steinmetz."

While Zilberstein has not yet been charged with bribery or obstruction of justice, he is suspected of general involvement, after authorizing two dubious invoices in 2011, each in the amount of $1 million.

Steinmetz, Zilberstein, Bezeq Chairman David Granot and two additional suspects were arrested earlier Monday in connection with bribery, money laundering, document forgery, false registration of corporate documents, fraud, breach of trust and obstruction of justice.

The FBI and Swiss Police were also involved in the case.

Police are investigating the possibility that all the suspects worked in concert to systematically produce fictitious contracts and transactions—even involving real estate in several foreign countries—in order to transfer and launder millions in several different currencies.

During the stormy hearing on Monday, Steinmetz lashed out at the government of Israel, accusing it of behaving like a "totalitarian state" and a "dictatorship." Steinmetz also slammed Hungarian billionaire George Soros, accusing him of being behind the whole affair.

"There is someone here who targeted me. This is political. George Soros targeted me. We haven't done anything. There is nothing here, but there was nothing," he said.

Steinmetz has blamed Soros in the past, accusing him of plotting to oust him from an iron mine in Guinea. In 2014, Steinmetz sued Soros after the rights to the iron mine were denied.