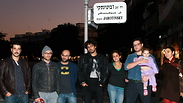 Some of the members of the New Likudniks
Photo: Yariv Katz
Likud limits party registration options in effort to stop New Likudniks
Party takes down online registration form and blocks options to join up via phone, email or fax as well, forcing activists to arrive in person to Likud offices; New Likudniks: 'We're not planning a coup, nor are we a fifth column. We are here to bring back the Likud's values of old.'
Prime Minister Benjamin Netanyahu's Likud party limited the registration to the movement on Monday in an effort to stop the mass registration of the "New Likudniks" faction, which currently has over 12,000 members.

"They want to take over the Likud in undemocratic manners," a party official said of the New Likudniks.

Last week, Netanyahu's supporters in the party said they intend to petition to the Likud court against the registration of the New Likudniks, claiming it was "unkosher" because the new members had no intention of voting for the party in the general elections.

Citizens who tried to join the party on Monday said access to the online form on the Likud's website has been blocked. After calling the party's headquarters to inquire about it, they were told there was no longer an option to register via the website, phone, email or fax.

The only way one can register for the party is by arriving in person and joining up at one of the party's offices or otherwise through a "central registrar" who gathers the registration forms of a group of activists and then hand-delivers them to the party headquarters.

Another party official claimed the move was not meant to push out the New Likudniks. "There are indications of improper use of the party website's registration form, so it was decided to temporarily stop online registration. Registration for the party using (physical) forms continues uninterrupted," he said.

The New Likudniks faction denied the accusations against them, saying, "We're not planning a coup, nor are we a fifth column. We are here to bring back the Likud's values of old: An exemplary society, ethicality and morality, fighting against corruption, the rule of law. These are the values that should lead the Likud movement. These are the principles that have led it since its glory days. Stopping registration is an inappropriate action, and we call on the Likud to once again allow the public to join up en masse."