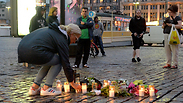 Turku, Finland, the day after the attack
Photo: Reuters
ISIS claims Cambrils attack, boasts of wounding '120 Crusaders and Jews'
Terror attacks roundup: ISIS claims responsibility for Friday's vehicular attack in Cambrils, Spain; ISIS also claims Saturday's stabbing attack in Siberia, though Russian authorities remain skeptical; Finnish authorities, meanwhile, say Saturday's stabbing likely act of terror.
European nations were hit by a series of violent and deadly attacks over the weekend. These include, in chronological order: an explosion on Wednesday night in the Spanish town of Alcanar, where one person died and seven were injured, and which is believed to be linked to the following day's attacks in Barcelona and Cambrils; a vehicular attack on Friday in the city of Barcelona that killed 13 and injured over 100; another vehicular attack on Friday in the Spanish town of Cambrils where one person died and six were injured; a stabbing attack in the Finnish city of Turku that killed two and injured eight; and a stabbing attack in the Siberian city of Surgut, in which seven people were injured.
Listed below are the latest updates on these incidents:
ISIS claims Cambrils attack, celebrating wounding 120 'Crusaders and Jews' in Spain
The Islamic State (also known as ISIS) announced Saturday that it is also responsible for the terrorist attack in the Catalan town of Cambrils, which took place on Friday, a few hours after the terrorist attack in the heart of Barcelona. "We murdered and wounded more than 120 Crusaders and Jews," a statement from the Sunni terror organization read.
Meanwhile, the police search for the terrorist who raided and murdered 13 people on Wednesday in Barcelona continued. Spanish authorities estimate that the main suspect is Younes Abu Yaqub, a 22-year-old Moroccan of Moroccan origin, whose image was published yesterday in Spanish media.
"Calling upon Allah and putting their faith in Him, several Jihad fighters went out on Thursday, as two security units simultaneously attacked concentrations of Crusaders in Spain," the Sunni terrorist organization said. "The Jihad fighters in the first unit attacked a Crusader concentration with a vehicle in La Rambla Boulevard in Barcelona. They also ran over two policemen at a roadblock. Then broke into a pub near La Rambla Square, killing and abusing the Crusaders and the Jews who were present.
"At the same time, a second unit ran over several Crusaders by truck in the coastal town of Cambrils," continued the terror group's statement. "(Overall—ed), the blessed attack caused the deaths and injuries of more than 120 citizens of countries taking part in the Crusader coalition."
Russia skeptical knife attack led by ISIS
A knife-wielding man went on a stabbing rampage Saturday in a Siberian city, wounding seven people before police shot and killed him. ISIS initially claimed responsibility for the attack, saying that the stabber was "an Islamic State soldier." Yet Russian authorities seem to find this possibility unlikely.
A statement from Russia's Investigative Committee said the mid-day attack on a central street in Surgut said the suspect had been identified as a resident in his early 20s. It said information was being sought on his psychiatric condition, suggesting authorities did not suspect terrorism as the likely motive.
The statement gave the number of victims at seven, down from an earlier tally of eight.
Four of the wounded were in serious condition, the state news agency Tass reported, citing regional health official Vladislav Nigmatulin.
Surgut, with a population of about 320,000, is an oil- and gas-producing center some 2,100 kilometers (1,300 miles) northeast of Moscow.
Finland stabbing seen as 'act of terror'
Finnish police are investigating Friday's knife attacks that killed two and wounded eight in the city of Turku as terrorism-related crimes, they said on Saturday.
The suspect arrested on Friday was an 18-year-old Moroccan, police said, adding that the two people killed were Finns and an Italian and two Swedish citizens were among the injured.
Turku, Finland, the day after the attack (צילום: רויטרס)
The attacks shocked the Nordic country where violent crime is relatively rare and which has been named as the world's safest place to visit by the World Economic Forum.
Following the attacks on Friday, police shot the suspected attacker in the leg and arrested him.
"Due to information received during the night, the Turku stabbings are now being investigated as murders with terrorist intent," the National Bureau of Investigation said in a statement.
Security was reinforced nationwide with increased patrols and more surveillance in case more people were involved.
"First thing we heard was a young woman, screaming like crazy. I thought it's just kids having fun ... but then people started to move around and I saw a man with a knife in his hand, stabbing a woman," said Laura Laine, who was sitting in a cafe during one of the attacks.
"Then a person ran towards us shouting 'he has a knife,' and everybody from the terrace ran inside. Next, a woman came in to the cafe. She was crying hysterically, down on her knees, saying someone's neck has been slashed open."
The police arrested a number of people during the night as part of their investigation.
Local media said the police raided an apartment in the eastern Turku suburb of Varissuo, which is home to a large immigrant population and located about 7 kilometers from the market square where the attack took place.
The arrested suspect had been in Finland for only a short time before the attack, Helsingin Sanomat newspaper reported. The police will hold a news conference at 1100 GMT.
Four of the wounded were still in hospital, three of them in intensive care, while the other injured persons would be sent home on Saturday, the hospital said.
Flags were at half mast on Saturday across the Nordic country whose Security Intelligence Service (SIS) raised the terrorism threat level in June to 'elevated' from 'low', saying it had become aware of terrorism-related plans in Finland.
Leaders of Turku's Iraqi and Syrian community condemned the attacks and said they would hold a rally of solidarity in the city's main square. An anti-immigration group was planning a demonstration in Helsinki.
The SIS has said anti-immigration groups have been on the rise in the country after it received about 32,500 asylum seekers during the migration crisis in 2015.
"Terrorists want to pit people against each other. We will not let this happen. Finnish society will not be defeated by fear or hatred," Interior Minister Paula Risikko said on Twitter.