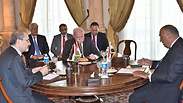 Arab foreign ministers proclaim: No peace without two-state solution
In preparation for the arrival of an American delegation to the Middle East, the foreign ministers of Egypt, Jordan and the Palestinian Authority present a unified position: 'There is no peace without the establishment of a Palestinian state within the '67 borders.'
The foreign ministers of Egypt, Jordan and the Palestinian Authority met on Saturday evening in Cairo to coordinate positions ahead of the expected arrival of an American delegation to the Middle East as part of the Trump administration's efforts to try to renew peace negotiations between Israel and the Palestinians.

"The Americans listened to the united Arab position that there will be no peace without the establishment of a Palestinian state within the '67 borders," Palestinian Foreign Minister Riyad al-Maliki said at the joint press conference.

Al-Maliki stressed the importance of coordination between Arab states, "especially concerning the Al-Aqsa Mosque and Israel's attempts to change the existing situation," adding this coordination should continue not just among the PA, Egypt and Jordan, "but also with the rest of our Arab brothers."

Jordanian Foreign Minister Ayman al-Safadi said in a message to the Americans that "We are not coming up with a new proposal," stressing that for Jordan, the solution was the establishment of a Palestinian state in the 1967 borders, in accordance with the Arab League initiative.

"We want to emphasize our principles and say what is already clear to the international community," al-Safadi said. "We heard from Donald Trump about his commitment to continue efforts to achieve peace between Israel and the Palestinians. Everyone knows there will be no negotiations without the American side.

"We aspire to establish a Palestinian state alongside the State of Israel, and we call for an immediate resumption of the negotiations. We will do everything in our power to achieve peace, but the ball is now in Israel's court. It wants security, but there is no security without security for the Palestinians as well. This region cannot live in peace without respect for all peoples."

Egyptian Foreign Minister Sameh Shoukry also noted the Trump administration's commitment to resume the peace process.

"We will hear what the American side has to offer and give what is necessary to achieve the goal—the end of the occupation and the establishment of a Palestinian state," Shoukry said, adding that this goal will only come to fruition with the joint efforts of the international community, and especially the Americans.