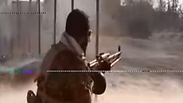 Iran's Revolutionary Guard fighting in Homs
New report details Iran's growing influence in Syria
Fighters from Afghanistan, Lebanon, Iraq and Iran commanded by Qasem Soleimani and backed by the Revolutionary Guard and supply transports by air and sea; according to report by intelligence analyst, Israel's leadership has justifiably been losing sleep over Iran's encroachment into neighboring Syria.
Growing Israeli concern over Iran gaining an ever increasing foothold in Syria has been impossible to miss lately, as evidenced by the prime minister's statements along those lines. Mossad Director Yossi Cohen also alerted the government to the fact that Iran's influence in Syria in particular and the region in general is growing stronger by the day.

In light of these events, and moments before Prime Minister Netanyahu's next meeting with Russian President Vladimir Putin, one of the more prominent figures shaping events in Syria, intelligence analyst Ronen Salomon has put together a project trying to trace the presence of Iranian forces in Syria.

Salomon's research shows that Iranian presence is shoring up its presence in Lebanon through the Islamic Republic's Revolutionary Guard's Quds Force, headed by General Qasem Soleimani. This military-intelligence body works in tandem with the Guard's intelligence division to carry out operations outside of Iran, with the assistance of the Ministry of Intelligence and other ministries and agencies.

Iranian presence in Syria, meanwhile, begins at the Damascus international airport region, through the Iranian embassy and the bases on Mount Qasioun, overlooking Damascus and near the Presidential Palace.

It's pertinent to mention here that in the past, attacks meant to stop munitions shipments to Hezbollah both at the Damascus airport and in the Qasioun area have been attributed to the Israeli Air Force

"These are accompanied by 'interests sections' used by the Quds Force in aviation and transportation, such as Iran Air and Mahan Air, the ministries of Islamic culture and direction, science and technology, housing and commerce and trade," explains Salomon.

"This has been well-documented in the list of sanctions imposed on Iran both in the past and today," Salomon adds. "In addition, the Quds Force makes use of the Iranian Red Crescent on occasion both to insert Revolutionary Guard and intelligence ministry operatives and to transport shipment and military aid by air and by sea, as they have already done in Lebanon, Sudan and Yemen."
By sea, air and land
The research shows that in the past few years, Iran was able to transport a large number of containers carrying advanced implements of war by sea under the guise of commercial shipments. Among other methods, transpiration is carried out through companies connected to Iran's international shipping company, IRISL.

Simultaneous to these actions, Iran started running an airlift to Syria out of Tehran's airports and Iranian airbases adjacent to the Iraqi border. These flights fly civilian routes through Iran Air and Mahan Air but also use "laundered" 747 army transportation aircrafts under a company called Qasem Fares Air and transport planes made by Russian manufacturer Ilyushin, also operated by Syrian national air carrier Syrian Air.

The goods transported along those routes are armaments and fighters, especially those belonging to Shiite militias assisting the Assad regime in Syria. Estimates says 21,000 passengers and 5,000 tons of supply have passed between the Tehran and Abadan route to Damascus. Flights leave at night to prevent satellite monitoring. Salomon's report also shows Iran has started operating assembly and unloading points, reflecting recent news the Islamic republic started constructing armament production infrastructures in Syria and Lebanon, including long-range missile manufacturing plants.
18,000 fighters at any given time
Iranian activity spreads four fronts. Main command is stationed in the Damascus international airport's area and is entrusted with the airborne supply array and forces spread over greater Damascus. In central Syria, there's a reported command outpost in the Dumayr area and airfields Shayrat and T-4 in the Homs region.

Meanwhile, witnesses report accelerated construction of military complexes in the coastal strip of northwestern Syria, reportedly linked to armament development and storage.

Lately, Salomon adds, Iran has made a concerted effort to gain control of the Tanf border crossing between Syria and Iraq with the goal of connecting Iran's bases and those of her Iraqi branches—and to use them to achieve control of Iraq's shared border with Deir ez-Zor in eastern Syria. It's entirely possible Iran intends to use these routes to transport advanced weaponry, armored vehicles captured from the Iraqi army and buses of fighters.

The order of battle Iran has constructed in Syria, under the watchful eye of Soleimani, is made up of elite Revolutionary Guard units called the Basij and the standing Iranian army, now appended to the Quds Force and numbering close to 1,500 men.

Other independent militias and organized forces on the ground are also supported by Iran. It's entirely conceivable that Palestinian forces also cooperate with the Quds Force, and are integrated into Syria's popular fighting forces.

Some 18,000 fighters of different militias are present in Syria at any one time, a number which includes Hezbollah and Iranian military personnel.

It's also possible this number has grown in the past few months as a result of the aforementioned accelerated airlift.

As for the number of casualties, Salomon claims that including Hezbollah, other Shiite militias and army or Revolutionary Guard personnel, 2,600 men have lost their lives since the start of the conflict, as a rough estimate, most of them not necessarily Iranian.