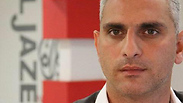 Al Jazeera correspondent Elias Karram
Government Press Office (GPO) Director Nitzan Chen held a hearing on Monday for Al Jazeera correspondent in Jerusalem Elias Karram after having revoked his press card.

Karram, 40, an Israeli Arab citizen from Nazareth, told television station Dar al-Iman last year that he was actively siding with the Palestinians in his work as a reporter, noting his journalistic work was part of the "resistance."

During his hearing, Karram said the resistance he spoke about was not a violent one, adding that he denounces the use of violence.

He asked Nitzan to reconsider his decision to revoke his press card, saying it would be hard for him to do his work as a journalist without it.

The GPO said a final decision on the matter has not yet been made.

A clip from the interview Karram gave to the Muslim Brotherhood-affiliated TV station shows him saying, "A Palestinian journalist working in occupied territory or conflict zone is no different to a politician or a teacher (resisting Israel's occupation).

"The journalist is doing his part by resisting with the pen, his voice or a camera. You are part of this nation, and you resist in your own way."