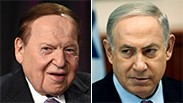 Adelson and Netanyahu
Photo: Reuters, AFP
Netanyahu asks Supreme Court for another hearing on Israel Hayom ruling
PM says he was 'flooded' with inquiries for private call and meeting logs after court ordered him to disclose details from his talks with newspaper owner Sheldon Adelson and then-editor-in-chief Amos Regev; PM clarifies he's not seeking to undo ruling, merely ensure his right to privacy is protected.
After the Supreme Court ordered Prime Minister Benjamin Netanyahu to divulge details of his conversations with the owner and editor-in-chief of newspaper Israel Hayom, the prime minister asked Tuesday to hold another discussion on the matter.

Ruling on a petition filed by Channel 10 News journalist Raviv Drucker, the court ordered Netanyahu to release the dates of his talks with the owner of the free daily, Sheldon Adelson, and then-editor-in-chief Amos Regev.

"Although the claim is that the requested information relates to private conversations and not to newspaper-related conversations, the existence of a personal connection between the prime minister and the controlling shareholder and the editor-in-chief of the newspaper, and the intensity of such a connection, is of great public interest," the court noted.

In his petition on Tuesday, the prime minister argued the ruling "severely hurts (his) right of privacy."

"In the short period of time that has passed since the ruling, we have witnessed a deluge of requests to divulge information pertaining to private phone calls and private meetings of many public employees and elected officials, and this is only the beginning," a statement issued on behalf of Netanyahu elaborated.

The prime minister stressed he "is not asking the court to cancel its decision on Adelson and Regev for the simple reason that he has nothing to hide."

Sources close to the prime minister further stressed the request was over principles and does not seek to prevent the release of the call log, which is why Netanyahu did not request for a stay of execution.

"However, in view of the importance accorded by the prime minister to the basic right to privacy, and in view of the flood of inquiries since the ruling was made, the prime minister has asked the Supreme Court to hold another hearing with an expanded panel and rule on the sensitive fundamental issues arising from the ruling," the statement went on to say.

"It is inconceivable that ministers, Knesset members, judges and other public officials will be made to expose their private conversations with journalists, or in general," the prime minister's statement added.

While the Supreme Court was deliberating on the matter, Adelson and Regev argued that "there is a long-standing friendship between them and the prime minister, and the requested information relates to 'private conversations between friends.' Therefore divulging their private information would constitute a violation of their privacy."

They also argued that the public interest in disclosing the information does not justify harming their privacy.