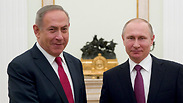 Netanyahu and Putin
Photo: EPA
Netanyahu to discuss 'Iranian entrenchment in Syria' with Putin
A day before embarking on his trip to Sochi in Russia to hold his ninth meeting with President Putin within two years, Netanyahu details main points he intends to discuss, including preventing Iran from maintaining a military presence in Syria in the event of any ending of its civil war; says Tehran's presence 'further proof that Iranian aggression has not subsided in the least following the nuclear agreement.'
Prime Minister Benjamin Netanyahu said Tuesday afternoon that he intended to discuss with Russian President Vladimir Putin during a state visit to his country on Wednesday "Iranian efforts to entrench its military inside Syria."

In a recorded message to the Israeli public from his Jerusalem office ahead of his scheduled meeting with the Russian premier in the city of Sochi on the Black Sea, Netanyahu added that he would be joined by the head of the Mossad and the head of Israel's National Security Council.

Netanyahu, who on Tuesday held security consultations as he prepares for yet another visit to Russia, added that Iran's presence in Syria is "further proof that Iranian aggression has not subsided in the least following the nuclear agreement, something which poses a problem not just for Israel but for every country, in the Middle East and the entire world."

The meeting between the Israeli and Russian leaders will be the ninth to have taken place within the space of two years, five of which have been held in Russia, as Israel works to fend off any further threats posed by Iran on its doorstep.

In the last few weeks, Israel has been been in frantic contact with the Kremlin and the White House amid fears of Iran's presence continuing in the area unabated in the event that the two powers put ink to any future agreement to end the Syrian conflict.

Israeli hopes were dashed last week after a delegation of high ranking Israeli defense officials sent to Washington failed to secure a commitment from the Americans to ensure the inclusion of such a clause demanding the full withdrawal and exclusion of Iranian forces in the country.

Netanyahu discussed the matter via telephone numerous times with Putin and with US Secretary of State Rex Tillerson. Similarly, security teams from Israel have also discussed the matter with their American counterparts on a number of occasions.

On Thursday however, the Israeli delegation came away from discussions in Washington anxious that Iran is now on the cusp of building naval, air and land bases in Syria and warned that such a reality would constitute the crossing of a red line which Israel would not be able to live with.