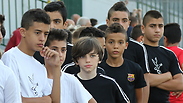 Children at the Soccer for Peace camp
Photo: Rauf Abu-Panne
Love of soccer brings together Jewish and Arab kids
Sixth graders from Jewish and Arab communities in northern Israel come together for a three-day camp where they play their favorite game in mixed teams and learn about each other; 'I found out there are interesting things in Jewish culture,' says Amir Hosni-Kabha from Barta'a, while teammate Gal Ben-Yitschak from Pardes Hana says he's happy to have learned some words in Arabic.
A quarter hour's drive is all that separates Pardes Hana-Karkur from Kafr Kara, but the actual distance between these two communities is enormous and represents the growing rift between Jewish and Arab society in Israel. The "Soccer for Peace" camp attempts to bridge this gap by means of one thing that connects the two populations—the love of soccer.
Seventy-five Jewish and Arab children arrived earlier this month at Givat Haviva, where they spent three days at a soccer-themed summer camp. Between the games and the breaks, the staff talked to the children about the friendship, love, and solidarity possible between the two societies, Jewish and Arab.
The children, mostly sixth graders, come from towns and cities in Wadi Ara and the Triangle area. Jewish communities taking part include Pardes Hanna-Karkur and Gan Hashomron. The Arab children came from Baqa al-Garbiyeh, Barta'a, Iksal, and Kafr Qara.
During the camp, the children learned about the two religions and cultures and the Jewish and Arab holidays, and went through soccer and sports workshops.
"Soccer is a tool we use to bring the two groups closer together. When you play sports and you divide the children into mixed teams, the children forget there is a difference between Jews and Arabs, they just want to beat the rival team," says Zakaria Mahameed, the camp director at Givat Haviva.
"It does take time to bring the children together, as they come from homes with suspicions and feelings of discomfort, but this makes sense. For most of them, this is the first time they have met a child from the other society. Many of them do not understand why they should connect with children with whom they feel they do not have much in common. But after a few hours of introductions and activities, they realize they have a lot in common, and by the end many of them even exchanged phone numbers so they could stay in touch after camp," continues Zakaria.
For Gal Ben-Yitschak, a sixth grader from Pardes Hana, this was his second time at the Soccer for Peace Camp. "I enjoyed the activity last year and asked my parents to come back again. This year I also got along well with the Arab children, and I was happy that we played together on the same team. I even learned a few words in Arabic," he related excitedly.
One of Gal's teammates was Amir Hosni-Kabha from Barta'a. Amir relayed how the camp was a wonderful experience for him, from which he learned a lot, especially about Jewish holidays. "I learned what Purim is and why kids dress up, and also what Shabbat is. I found out there are interesting things in Jewish culture."
The project was born thanks to Ori Winitzer, who started "Soccer for Peace" in the United States and brought it to Israel three years ago. Since then, the camp has been growing, with much success noted among the children who attend.
"Sport belongs to everyone, regardless of color, sex, or race. It is a powerful tool for bringing hearts together. You can put children in the same room, and it will take them a long time to open up and get to know each other, but if you get them to play soccer they will connect immediately," Zakaria explains.
The last day of the camp featured a tournament between the teams and ended with a big graduation party with parents and ambassadors from Germany, the USA, Canada, and Argentina—all of whom were represented by teams at the camp. The German Embassy even donated shirts of their national team.
It was clear the encounter between the Jewish and Arab parents was magical and unique, and they managed for one day to put aside some of the usual fears and, instead of arguing about politics, they complained about the referee.
Zakaria is not ignoring the recent events on the Temple Mount, in the West Bank, and in Jordan. "During the last three months, there were many events that heightened tensions and increased criticism between Jews and Arabs," he says.
"It is not obvious to bring young children together, who hear and experience moments of tension through their parents and in the media. The media reflects a lot of incitement, which does exist in Israel, and it makes it difficult for children to come to camp objectively. It is not easy for parents to let their children go for three days, but as soon as they do, they are supportive and help make sure the camp goes well. We at Givat Haviva believe that working for a shared society must not stop even in the darkest times."
The Center for a Shared Society at Givat Haviva was founded in 1949 as a nonprofit organization, and works to promote civic equality, mutual support, and communication between the different ethnic groups in Israeli society.