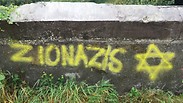 Anti-Semitic graffiti in the UK
Photo: The Community Security Trust
British Jew speaks on the rise of anti-Semitism in Britain
Sharon Klaff, a British Jewish activist, speaks of her experiences; 'Islamic anti-Semitism the most dangerous,' she says, adding that anti-Israel activists in the UK have been indoctrinating children by rewriting Jewish lore as Paletinian, 'turning David to Daud, Moses to Musa.'
A poll published recently by the Campaign Against Anti-Semitism showed that about a third of British Jews considered leaving with 37 percent of Jews feeling they need to conceal their ethnicity in public and only 59 percent felt welcome in the country. Sharon Klaff, a British Jewish activist, was asked to explain why.

"There's been a rise of overt anti-Semitism in the UK over the last few years, typically within the Labor party and specifically since Jeremy Corbyn took over the leadership," she said.

"British Jews are quite aware of being discriminated against via statements made by various people like some MPs in the British government. So yes, there is an air of very open anti-Semitism here, we see the same Neo-Nazism and anti-Semitism in America and on our own streets. However, the anti-Semitism I think is the most dangerous is the Islamic anti-Semitism that seems to be a worldwide phenomenon right now."

Sharon Klaff interviewed on anti-Semitism and anti-Israeli sentiment in the UK (צילום: אלי סגל)

Have you witnessed any anti-Semitic incidents in the UK personally?

"Yes, I have. I'm a bit of an activist. I go to a lot of meetings, mostly in London but across the country. I was one of the people at the meeting at the University College London campus when we were raided by the Palestine Solidarity Campaign and they took over our lecture hall. It was Hen Mazzig who was speaking, the Israeli, and what happened was they had to run us into another room where they were banging at the door trying to get in. We were in a way held under siege at that campus for quite some time until the police could work out a way to get us out of there."

Have you considered leaving the UK? Have your friends and family?

"I know that there are people leaving the UK, making Aliyah. My heart, of course, is in Israel, but my family lives here. I'm not making plans to make Aliyah but I know that there's an air of people wanted to perhaps start to make plans to leave.

"At the end of July, when the Al-Aqsa incident was taking place, there was a big demonstration outside the Israeli embassy and we were there to hold a vigil for the family that was slaughtered that Friday night. What we witnessed there was a bit of a change in the anti-Semitism on our streets, in that it was very aggressive. It was a little bit frightening. They didn't send too many police there to start with, and then they stole our flag and ran down the street with it. I sent you a video of how they burned our flag.

"What I witnessed for the first time in demonstrations is that there were people there carrying flammable canisters in their hands, ready for action. That's a little bit frightening."

What role does the rise of Jeremy Corbyn play in these matters?

"Jeremy Corbyn is a longstanding anti-Israel activist. He was involved in that even in his early days as an MP, he in fact is a patron of the Palestine Solidarity Campaign. The Palestine Solidarity Campaign is like a big umbrella (organization—ed.) and it works by having (daughter) organizations across the country. At any time of any day of any week you can find an event that's taking place by the Palestine Solidarity Campaign or that's backed by them. For instance, they work together with Friends of Al-Aqsa, as they did when they had the very big Palestine Expo in London at the Queen Elizabeth II Centre. It's the first time they've had a huge event/

"They say about 1,500 people attended over the weekend. They had a list of the most vile, anti-Israel anti-Semitic speakers and they also had a kind of an indoctrination of children.

"They had a children's corner where they were teaching children about the prophets of Palestine, and they turned King David into Daud. So the children hear about Daud and Goliath, they hear about not Moses but Musa crossing the Red Sea.

"So what we have is a sense of "Palestinianism", which is the weapon that the Arabs of the area are using as a weapon to attack Israel and through Israel, to attack Jews."

How scary is it to be a Jew in the UK nowadays?

"On a daily basis you don't notice it. You go about your life, you go to work, you do your shopping. But I know that the Haredi Jews are very often under physical attack. In the area that I live in I haven't seen any attacks and I must say that I'm more aware: I look around a little bit, I check who's behind me sometimes when I'm in certain areas. If I go to demonstrations I'm a little bit more cautious.

"As in any country the majority of people actually are not involved in the political arena. They may read about it in the press, mostly in the Jewish press, but I think by and large a lot of people just ignore it.

Are Jews in the UK facing violence on a daily basis?

"I wouldn't say that. What you see is mostly done at demonstrations. I go shopping in Golders Green, which is a Jewish area, I don't really see violence there. There's a kind of focus on demonstrations."

Do you feel you need to hide your Jewish identity on a daily basis?

"I don't, but I made a conscious decision—being born in South Africa, where racism was the name of the game—never to hide who I am. I'm very open about who I am, I'm very open about my political beliefs but there is an air here, and there always has been, of people not talking about their Jewishness when they go to work, not being too open about it. I know that on certain university campuses this is rife. This is where it really bubbles to the surface. So on certain university campuses the Jewish students are a little bit more cautious about wearing a Star of David around their necks or being overtly Jewish in their daily actions."