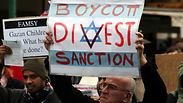 Israelis and their part in countering BDS
What has Israel, both its people and government, been doing to stave off the threat posed by the BDS movement and what tangible successes can be registered? Ministry of Strategic Affairs official explains that thanks to concerted efforts, Israel is effectively eroding the potency of BDS's influence, but it can only continue to do so if Israelis and its supporters play their part.
Two years ago Prime Minister Benjamin Netanyahu declared that the Boycott, Divestment, Sanctions (BDS) movement as the a strategic threat to the state. Stepping up efforts to fight back against the organization, which was officially established in 2005, Public Security Minister Gilad Erdan was appointed by Director-General of the Strategic Affairs Ministry Sima Vaknin-Gil to lead the offensive.

Unlike previous years, the ministry received a significant budget and extensive tools to enable it to launch a rigorous counter assault against the BDS.

BDS protestors disrupt Israeli envoy Danon's speech

"The ideology of the movement stands in absolute opposition to the existence of the Jewish state in the Land of Israel," said Tzachi Gavrieli, the ministry's deputy director-general who leads the campaign against the delegitimization of Israel.

After serving in several governmental positions, including a personal assistant to former prime minister Ehud Olmert and as an advisor to Netanyahu during his tenure as prime minister, Gavrieli took a break from political life and made his entry into the start-up world. It wasn't long, however, before he was called back and tasked with establishing a body within the Ministry of Strategic Affairs under the simple name: "The Campaign."

The entrepreneurial group consists of individuals from a wide range of fields, including legal experts, economists, strategists, and new media specialists.

"We have nicknamed it 'governmental start-up.' It is a body that speaks in everyday language and our goal is to wake up, go about our day, and go to sleep with delegitimization and the BDS on our minds," Gavrieli explained.

"We are developing a research infrastructure, we follow the patterns of the boycott movement and conduct a series of activities, some of which are covert and some overt."

Among the projects that have been launched as part of the ministry's initiative is "Campaign 4IL," which saw the distribution of starter kits for youths wanting to join the campaign and advocate for Israel. Another initiative, known as Act.il, a joint venture undertaken by the Jewish American organization, Israeli-American Council (IAC) and the Interdisciplinary Center Herzliya, has already led to the creation of a concentrated pro-Israel community comprising tens of thousands of registered users.

"Our approach is no longer one of defense, but rather offense and we are not ashamed to say so," Gavrieli proudly stated, adding that the BDS movement, which he says operates as an organization of delegitimization under the guise of human rights, is like a "washing machine."

"No one in the BDS movement is talking about peace or about a bi-national state. They don't accept the notion of the Land of Israel as a Jewish state. Since it isn't possible garner support from the liberal youth in the year 2017 with this attitude, they have employed a new, sophisticated message. They don't speak about destroying Israel in public, but rather about Palestinian rights. The only way to achieve these rights, so they claim, is by boycotting Israel, divestment and placing economic sanctions on it and the like."

The movement is, in effect, based on the boycott movement against apartheid South Africa, which, from their point of view, was successful.

"This comparison is fundamentally false. Even officials from South Africa are insulted by the analogy by using the term 'apartheid' which is so rooted in their culture," Gavrieli insists. "They know what happens in Israel and say it isn't even close. They don't understand why they use the term which, for them, has significant meaning."

In addition to the calls for cultural, economic and academic boycotts, the BDS movement operates on another worrisome, and arguably more insidious level in that it seeks to tarnish Israel's name among Jews worldwide.

"They tell them that Israel isn't the Israel they know. They tell them it isn't the Jewish home of your grandparents who used to put a coin in the Tzedakah (charity) box. They tell them that Israel has changed its ways and that they can no longer identify with, either emotionally morally," Gavrieli noted.

This notwithstanding, it seems that in the last two years, BDS's standing is on the decline and is now facing an ever-increasing barrage of obstacles preventing the execution of its mission. In the United States, this trend of weakening is evinced in legislation. So far, 22 states in the US have ratified draconian laws which prohibit discrimination against Israel.

In Europe too, the voices of opposition to BDS of numerous politicians and prime ministers are coming to the fore. Chancellor Angela Merkel, for instance, has described BDS as being anti-Semitic, while The UK's Prime Minister Theresa May declared the BDS to be little more than a campaign of anti-Semitism directed against Israel. Moreover, May went a step further, announcing her intention to adopt the new definition of anti-Semitism that was recently approved by the International Holocaust Remembrance Alliance (IHRA).

Cracks in the BDS's armor and weaponry have also started to form in the cultural arena. Last month, Radiohead came to perform in Israel despite numerous, determined and concerted efforts to convince them not to.

"A magnificent cadre of artists came here this year. Every one of them received a personal letter from one of the cultural heads of the BDS: Roger Waters, Ken Loach, Alice Walker and they were all rejected," Gavrieli pointed out.

But despite Israel seemingly gaining the upper hand in the battle, Gavrieli emphasized that there is more work to be done against the delegitimization campaign, which he says are more complex than mere boycotts.

Gavrieli also called upon Israelis to join the campaign and be proactive in the struggle. "Israelis should respond not only to the physical missiles but also to the missiles of hate. I call on the Israelis who feel obligated to play their part," he concluded.