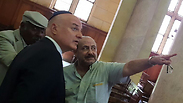 David Govrin in Alexandria
Israel's Ambassador to Egypt David Govrin paid a visit to Cairo Wednesday, along with eight other members of the Israeli delegation, for the first time since the end of 2016 when he was forced to leave the country amid security warnings, according to Egyptian media reports.

The reports claim that Govrin's rapid visit lasted just one day, after which he returned to Israel.

A February report in the British newspaper, The Telegraph, claimed that Govrin was returned to Israel at the end of 2016 and has not visited the Egyptian capital since. He did however continue to perform his duties from Jerusalem.

The report made no mention of specific security threats that abruptly prompted Govrin's surprise departure, but the concerns are said to have emanated from the numerous terror attacks that had struck Egypt during the same period.

In September 2011, a mob stormed the Israeli embassy in Cairo, forcing six Israeli security guards to barricade themselves in.

The episode, which put Israeli-Egyptian relations in jeopardy, was brought to a conclusion after former US president Barack Obama made contact with Egyptian President Abdel Fattah al-Sisi, leading to an order to send in special Egyptian troops to evacuate the ensnared Israelis.

In recent years, Israel's diplomatic staff in Egypt have operated from a small building inside the ambassador's residence in the southern neighborhood of Maadi, under the protection of a heavy security detail.

Ambassador Govrin was appointed to his post in Egypt in the summer of 2016 and in September the same year presented his credentials to al-Sisi.

The same month, Govrin paid a rare visit to Alexandria in northern Egypt, together with embassy staff where they met with the head of the local Jewish community. It was the first visit by any Israeli representative to Alexandria.