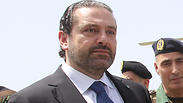 Lebanese Prime Minister Saad Hariri
Photo: AFP
Lebanon trying to stop construction of Iranian arms factory in its territory
After warning from Defense Minister Lieberman that Israel 'does not intend to resign itself' to Iran's attempts to manufacture precise weaponry in Lebanon, Lebanese PM raises objections to Tehran's plans for factory that would arm Hezbollah with accurate missiles.
Lebanese Prime Minister Saad Hariri has been working to prevent the construction of an Iranian missile factory for Hezbollah in his country.

Defense Minister Avigdor Lieberman issued a warning on Thursday, saying Israel would not allow Iran to establish its presence in the Syrian Golan.

"Iran, via its Revolutionary Guard, is trying to create a new reality in the region with Iranian air force and naval bases in Syria, with Shiite militias numbering thousands of mercenaries and by manufacturing precise weaponry in Lebanon. Israel does not intend to resign itself to these attempts and will not act as onlooker from the sidelines," Lieberman said.

This was a change in policy from previous statements by Israeli officials, who have so far limited their warnings to "Israel would know what to do" about such a threat.

Lieberman's warning raised the alarm in Beirut, with Lebanese authorities worried it would be the country's citizens who pay the price of another war between Israel and Hezbollah.

In early July, the head of the IDF's Military Intelligence Directorate, Maj. Gen. Herzi Halevi, confirmed reports of the plans to build an Iranian weapons factory in Lebanon.

Later reports indicated the factory would have two facilities: One at the Hermel area, in the eastern part of the Beqaa Valley, which would manufacture Fateh-110 surface-to-surface missiles with a range of up to 300km and the capability to carry a 400kg warhead.

The second facility would be located on the Lebanese coast between the cities Tyre and Sidon. That factory would manufacture different parts of the missile, which would be later be put together in different factories at a later date, according to French magazine Intelligence Online.

Hezbollah, which has already accumulated over 100,000 rockets, is now seeking to target specific sensitive sites in Israel. To that end, it has been trying to obtain long-range guided missiles by smuggling them from Iran through Syria.

However, Israel has been targeting these weapons convoys, essentially foiling Hezbollah's smuggling efforts and leading the terror group to the conclusion its only option is to move the missile production into Lebanon.