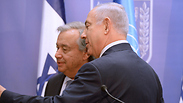 Guterres and Netanyahu
Photo: Amos Ben Gershom/GPO
Netanyahu tells UN chief Iran building missile production sites in Syria, Lebanon
As António Guterres kicks off four-day tour of Israel with visit to Yad Vashem and meetings with Israeli leaders, PM Netanyahu warns the UN secretary-general of Tehran's military ambitions in Syria and Lebanon, which he says 'Israel cannot accept...the UN should not accept'; Guterres assures President Rivlin that he intends to be more even-handed with Israel, equates calls for its destruction with anti-Semitism.
Prime Minister Benjamin Netanyahu told United Nations Secretary-General António Guterres Monday that Iran is building sites to produce precision-guided missiles in Syria and Lebanon, with the aim of using them against Israel.

At the start of a meeting in Jerusalem, Netanyahu accused Iran of turning Syria into a "base of military entrenchment as part of its declared goal to eradicate Israel."

"It is also building sites to produce precision-guided missiles towards that end, in both Syria and in Lebanon. This is something Israel cannot accept. This is something the UN should not accept," Netanyahu said as the two spoke during a joint press conference.

Iran, Israel's arch-enemy, has been Syrian President Bashar al-Assad's staunchest backer and has provided militia fighters and terror groups such as Hezbollah to help him in Syria's civil war.

The prime minister lamented its "troubled relationship" with the UN, decrying what he described as an "absurd obsession with Israel," which uses "flagrantly discriminatory tactics. You don't have to be the Israeli prime minister to understand that, and I think people of good faith and common sense understand that."

Netanyahu criticized the UN, saying that it fails to check Palestinian hate speech, "absurdly denies" Jewish connections to Jerusalem and has not stopped arms from reaching Hezbollah in Lebanon.

He was referring to a recent UN cultural agency resolution about Jerusalem that angered Israel after it failed to acknowledge Jewish ties with the city and recently denied Israeli sovereignty over the city.

Israel also criticized the UN peacekeeping force in Lebanon, or UNIFIL, for being too soft on Iranian-backed Hezbollah forces in the border area. The US recently backed Israel in its claims and suggested that more responsibilities be demanded of the group to curb Hezbollah's activities.

He went on to express his hopes that Guterres would have an opportunity on this visit to see Israel. "It's a robust democracy. It's a very advanced country. It's a country that engages in the pursuit of knowledge and the betterment of our own people, the betterment of humanity," Netanyahu said.

Telling Guterres that the mandate of the UN was to advance peace and security and international cooperation, Netanyahu insisted that the UN had "failed when it comes to Israel to live up to this mandate."

Guterres vowed that he will "do everything in my capacity" to ensure UNIFIL fulfills its obligations. The UN peacekeeping force's mandate is up for renewal at the end of the month and Israel is pressing for the force to have an increased presence to better monitor and prevent what Israel says is Hezbollah building up its weapons.

"I understand the security concerns of Israel and I repeat that the idea or the intention or the will to destroy the state of Israel is something totally unacceptable from my perspective," the UN chief said, echoing the words he had said earlier to President Reuven Rivlin.

Earlier, Guterres told Rivlin that "the mission everywhere is to promote dialogue, understanding and peace," as he kicked off his four-day visit to the country as part of a wider tour of the Middle East.

Guterres went on to assure the Israeli president that he would be handling relations in the Middle East impartially and that he was devoted to implementing the principles in the UN Charter.

"I want to express to you Mr President, that you can be fully confident that in my role as Secretary-General, and in relation to the functions of the secretariat that I am supposed to meet, I am very keen in stressing the values of the Charter, and the very important value of the Charter, impartiality," he said.

Touching on Israel's repeated grievances that the UN consistently acts as an anti-Israel forum, Guterres said that he was determined to change that.

"Impartiality means treating all states equally, and I am totally committed to that in my action and in everything I can do for the organization I lead," he continued. "I do believe that in particular when you mention those that call for the destruction of the State of Israel that that is a form of modern anti-Semitism, but you also understand that I sometimes disagree with positions with the government of Israel or any other government, and that is absolutely normal in a society where many of your citizens have exactly the same expressions of opinions."

His comments came in response to those delivered by Rivlin who told him: "...Because the idea of the nation state is so deeply rooted in the values and the principles of the UN, I call upon you, Mr. Secretary-General, to work to end discrimination against Israel in some branches of the organization you're heading."

Prior to his meeting with Rivlin, Guterres paid a visit to Yad Vashem where he pledged his commitment to "combating anti-Semitism."

Secretary-General Guterres, who later met with Prime Minister Benjamin Netanyahu, and is scheduled to meet with Opposition leader Isaac Herzog and Defense Minister Avigdor Lieberman, also participated in a short ceremony at the Yizkor tent (Hall of Remembrance).

Guterres placed a wreath in the tent, dedicating it to the memory of the victims and signed the museum's visitors' book. "As UN Secretary-General, I'm committed to combating anti-Semitism and any other form of intolerance that hasn't yet been eradicated. I wish to praise every person who works and preserves this exceptional museum," he said.

Gutteres in the Yizkor tent (צילום: גיל יוחנן)

During his visit, Guterres warned that anti-Semitism remains "alive and well" in today's world and vowed to combat all forms of racism and bigotry. "The horror of the Holocaust should be such that anti-Semitism should now be dead forever," he said.

Guterres also said that he "was shocked a few years ago to listen to the chant of a group of neo-Nazis in a developed country in the world, chanting 'blood and soil,' the slogan of the Nazis."

Israel's ambassador to the United Nations Danny Danon also accompanied Guterres on his trip. "Nowadays, when we're witnessing appalling and dangerous anti-Semitic incidents, the entire world must make a stand and denounce anti-Semitism," said Danon.

Guterres will visit Mount Herzl next, where he will place a wreath on the tombs of late former Israeli president of Israel Shimon Peres and visionary of the modern State of Israel and one of the chief founders of Zionism Theodor Herzl.

The Secretary-General will meet with the Coordinator of Government Activities in the Territories Maj.-Gen. Yoav Mordechai.

He also participated in a tree-planting ceremony in the Grove of Nations in the Jerusalem Forest and will later meet with the family of Oron Shaul, whose body was captured by Hamas in Gaza during Operation Protective Edge. He will also hold discussions with the families of the missing Israelis Avera Mengistu and Hisham al-Sayed.

After completing his rounds with the Israeli leaders, Guterres head to the Palestinian Authority where he will meet with Palestinian Prime Minister Rami Hamdallah on Tuesday in the West Bank and visit Gaza on Wednesday.

AP and Reuters contributed to this report.