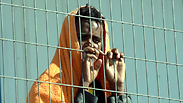 A prisoner at Saharonim
Photo: Haim Horenstein
The High Court of Justice ruled on Monday that the State of Israel cannot detain illegal infiltrators for more than 60 days. The decision was made by a panel of five judges, in response to an appeal submitted the end of 2015 to the Be'er Sheva District Court by two Eritrean citizens and six human rights organizations, including the Association for Civil Rights in Israel and a center for refugees and immigrants.

According to the existing law, infiltrators who refuse to be deported can be held against their will indefinitely at Saharonim Prison in the Negev, until they are "convinced" to be deported to another country.

However, the HCJ also ruled that the petitioners did not prove that the countries infiltrators are being deported to should necessarily be considered dangerous, thus allowing their continued deportation.

Chief Justice Miriam Naor noted that forcing the two appellants to "agree" to their own deportation by definition excludes the option of free will. She cited Justice Fogelman's description of such a situation as "an impossible reality."




In the ruling, Naor stressed that while an infiltrator could be held for more than 60 days for refusing to cooperate with authorities, refusing deportation does not constitute such a refusal, and could not be used to keep infiltrators locked up.

"Interpreting refusal of deportation as a refusal to cooperate cannot coexist with the need for a true, free-willed, voluntary and autonomous agreement (for deportation—ed)," said Naor.

In an attempt to address the complaints voiced by residents of such areas as south Tel Aviv, where large numbers of infiltrators live, Naor suggested concentrating infiltrator populations throughout Israel.

Retired justice Elyakim Rubenstein, also spoke during the hearing, weighing in on what will be one of his final rulings.

"The State of Israel's ethos, which was built as a place of refuge for persecuted Jews, as well as in the tradition of "Thou shalt not deliver unto his master the servant which is escaped" that has followed us, command us to act with caution in sending away foreigners and infiltrators, even when there is not much choice, as is many times the case."

Elyakim went on to stress the "humane approach, and the constant and detailed care for their well—being in the place to which they will be sent, whenever possible."

Several of the human rights organizations that signed the petition praised the judges' decision: "The High Court today ruled that it is impossible to hold asylum seekers in unlimited detention as a means of pressure, and decided not to make a draconian arrangement of unprecedented severity that enables indefinite detention of innocent people."

"We will continue to struggle until the State of Israel provides a humane solution to the asylum seekers who have been living for a decade within its borders, will allow them to submit applications for asylum, examine them and grant (a legal—ed) status to those who have been living in Israel who are entitled to it.

Interior Minister Aryeh Deri, however, criticized the judges' decision. "The decision not to allow the state to expel infiltrators against their will is very problematic, as it takes away from the state a very important tool and allows any infiltrator who wants to stay to remain in Israel.

"Immediately after the High Court of Justice's ruling, I spoke with Justice Minister Ayelet Shaked and told her I was considering an amendment to the law that would allow the state to deport infiltrators from the country against their will "

Deri added: "We have to take care of the citizens of the State of Israel, the residents of south Tel Aviv and other cities whose lives are not worth living."

That said, Deri stated that "I am pleased that the High Court of Justice has allowed us to continue to remove infiltrators to a third country."

Following the petitioners' 2015 appeal, the state itself claimed that it had the authority to transfer refugees to a third country in which the lives of the infiltrators would presumably not be in danger. The state further noted in its response that the infiltrators must prove a danger to their lives in that third country, and that it is not sufficient to simply claim the third country is dangerous.