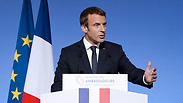 French President Emmanuel Macron
Photo: AP
French president plans Mideast trip to push peace process
Macron says he's planning a trip to Israel, the Palestinian territories, Lebanon and Jordan in the spring to help efforts to reach 'a two-state solution, Israel and Palestine, living safely side-by-side within borders recognized by the international community, with Jerusalem at the capital of both states.'
PARIS - French President Emmanuel Macron will travel to the Middle East next spring, in a trip including Israel and the Palestinian territories, to help the peace process in the region and promote a two-state solution.

"We will continue our efforts with the United Nations to find a two-state solution, Israel and Palestine, living safely side-by-side within borders recognized by the international community, with Jerusalem at the capital of both states," he told a gathering of French ambassadors.

Besides Israel and the Palestinian territories, Macron said the trip will include Lebanon and Jordan.

Macron met with Prime Minister Benjamin Netanyahu in July and made an appeal to him for renewed Israeli-Palestinian peace talks.

The French president also warned the Israeli prime minister that continued Jewish settlement construction could threaten such negotiations and eventual peace prospects.

"I call for a resumption of negotiations between Israel and the Palestinians in the framework of the search for a solution of two states, Israel and Palestine, living in recognized, secure borders with Jerusalem as the capital," Macron told reporters.

At his side, Netanyahu said, "We share the same desire for a peaceful Middle East," but didn't elaborate on eventual peace talks.

Macron further said France is ready to apply diplomatic levers toward renewed negotiations but gave no specifics. He didn't indicate any eagerness for France to spearhead such negotiations, after a fruitless French diplomatic effort early this year.
Fight against 'Islamist terrorism' first priority
In a speech that touched upon a wide array of topics on Tuesday, Macron told French ambassadors that the fight against "Islamist terrorism," especially in Syria and Iraq, is the first priority of his foreign policy.
Macron proposed creating a new "contact group" including the other permanent members of the UN Security Council to help handle negotiations with Syria. He didn't give more detail about the exact role and composition of this group.
Macron said the Islamic State group is "our enemy" and "we must end the war" in Syria, and called for a political transition in Iraq.
Macron also said he wants to organize in Paris an international summit "against the financing of the terrorism" at the beginning of next year.
The French president also discussed the 2015 Iranian nuclear deal amid threats from Tehran it would back out of the agreement if the US continues imposing sanctions on it, saying there was no alternative to the deal.
In a message aimed at US President Donald Trump, who has ordered a review of the lifting of sanctions after the agreement and called it "the worst deal ever negotiated," Macron asserted the agreement was good.
"There is no alternative to the regime on nuclear non-proliferation," he said. "In the context of what we are living through, the 2015 agreement is what allows us establish a constructive and demanding dialogue with Iran."
The Associated Press contributed to this report.