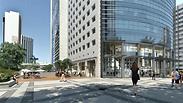 The Ramat Gan Stock Exchange
Court sets precedent in Ramat Gan strip club closure
Administrative appeal brought before Tel Aviv District Court produces decision stating unequivocally stripping is not 'entertainment,' forcing closure of Ramat Gan Stock Exchange club; 'Objectifying women no form of 'entertainment',' judge writes; ruling to be appealed to Supreme Court, but may have national ramifications if left standing.
In a potentially landmark and precedential decision, the Tel Aviv District Court decided Tuesday stripping cannot be considered "entertainment," and revoked a business liscence belonging to a Ramat Gan club offering strip-teasing. The decision may have far-reaching implications for other such clubs nationwide.

"Stripping is using a woman's body as a tool to titillate and sexually satisfy the male viewers, and women should not be used merely as tools to achieving someone else's objectives," wrote Tel Aviv District Court Justice Michal Agmon Gonen in a verdict expected to bring about the closure of various sex clubs in Ramat Gan's Stock Exchange complex.

The matter was decided in court following an administrative appeal by the Ramat Gan municipality's Planning and Construction Committee, which objects to providing business licenses to the strip club active in the city's Stock Exchange complex—an area that has become synonymous was Israel's sex industry due to the strip clubs and brothels operating there.

The municipality came before the committee to say the only activity a club in the region may supply its patrons is "entertainment", whereas strip clubs fail to meet that definition.

While the committee accepted the claim, Eran Yerushalmi, the owner of the Cabaretto club located in the Stock Exchange complex, turned to the Tel Aviv district's appellate committee, which ruled in his favor, stating that strip clubs are indeed a form of "sexual entertainment." However, the judicial ping-pong ally continued after the municipality took the case to the District Court, which made its precedent-setting ruling on Monday.

At first glance this ruling is on an almost technical issue, since any Stock Exchange clubs' are required to provide 'entertainment', meaning their right to receive business permits allowing them to continue operating depends on fulfilling this requirement.

Judge Agmon Gonen, however, was not satisfied with merely signing off on the planning and construction committee's claims that strip clubs couldn't be defined as 'entertainment.' Taking it a step further, she went on to espouse her moral, rather than legal, objections to the industry of strip clubs.

"Objectifying women constitutes no form of 'entertainment' whatsoever. Sex shows are practices degrading and objectifying women and harming their dignity as human beings," the judge wrote.

"Israeli legislation acts to prevent and forbid such objectification, trampling their dignity and degrading and humiliating them," she added. "The court must remain ever vigilant to prevent a reality in which sexual entertainment takes place and objectifies women."

Her ruling may now serve as basis for additional future rulings that will bring about the closure of more clubs.

Agmon Gonen wasn't ignoring the claim women employed as strippers don't feel denigrated and have even made the choice to work in that profession of their own free will. She did, however, determine that when a certain behavior harms human dignity, it should be prohibited due to its adverse effects on societal values.

"It can be determined that a certain activity objectifies women and injures their dignity, even if they themselves don't consider that to be the case," the verdict read, also asserting that by the same logic, a man cannot choose to become a "slave" even if they do so of their own free will.

Yerushalmi, the owners of the Cabaretto club, claimed in court the business he manages meet the criteria of the "entertainment" designation, and the local planning and construction committee's decision therefore harms his right—and the right of his employees—to choose their own livelihood.

"The municipality's considerations stem from a puritan, conservative worldview," he said, "which belongs in a bygone era in the past and not an enlightened country that's supposed to allow freedom of expression and occupation."

After the ruling—deciding, in effect, his club must be shut down—Yerushalmi refused to comment as he intends to appeal to the Supreme Court.

"Any decision stating dancing in the nude transforms women into objects is baseless in its very essence," said Yerushalmi's advocate Ilan Lafish.