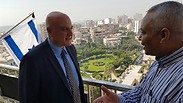 Israel's ambassador to Egypt has returned to his post, eight months after he and his small staff returned home because of unspecified security threats.

Cairo airport officials say the ambassador, David Govrin, flew back to Cairo on Tuesday with eight staff members. The ambassador and his staff are expected to resume work from the envoy's suburban Cairo home.

The Israeli Embassy in central Cairo has been closed since protesters stormed it in 2011.

The Israeli Foreign Ministry had no immediate comment. The airport officials spoke on condition of anonymity because they were not authorized to speak to the media.

Prior to their departure in mid-December, the ambassador and his staff routinely flew home on Thursday and returned to their post on Sunday.

A February report in the British newspaper, The Telegraph, claimed that Govrin was returned to Israel at the end of 2016 and has not visited the Egyptian capital since. He did however continue to perform his duties from Jerusalem.

The report made no mention of specific security threats that abruptly prompted Gavrin's surprise departure, but the concerns are said to have emanated from the numerous terror attacks that had struck Egypt during the same period.