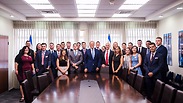 Cadets with MK Michael Oren
Photo: Shmuel Cohen Photo Agency
US army cadets and US Navy midshipmen take policy tour of Israel
This summer, 28 cadets embarked on a journey throughout Israel during which they visited the country's most prestigious sites and were briefed by some of the most distinguished experts in Israel's political and military sphere; in an exclusive interview, the cadets shared with Ynetnews some of their conclusions about the country; 'It put all the media coverage into perspective.'
Israel's fightback against the relentless barrage of slander campaigns in the international sphere has become a central focus of the government and of numerous organizations in Israel and around the world.

Some of the most effective methods for countering anti-Israel activities include not only going out to advocate for Israel on the university campuses and communities where anti-Israel rhetoric finds its most fertile grounds, but also bringing people to Israel and enabling them to view first-hand the realities on the ground.

One of the transcendent organizations in this field, dealing in the promotion of Israeli policy and strategy, but not advocacy, is Our Soldiers Speak. They are raising the discussion of Israel to new heights, from a position that contributes Israel's voice to the global discourse without engaging in advocacy, much less in a defensive manner.



Founded in 2006, Our Soldiers Speak, a US-based NGO, is the first, and currently the sole organization globally, that brings uniformed IDF soldiers, officers and generals from the field to the campuses and communities throughout the English-speaking world,

As part of their 360 degree approach, they recently implemented a groundbreaking project bringing 28 cadets and Midshipmen from the US Naval Academy, Annapolis and the United States Military Academy, West Point to embark on a journey throughout Israel stretching from its Negev desert in the south to the northern frontiers of the country.

The twelve day tour—Israel Through the Defense & Policy Lens—provided the participants the opportunity to visit some of Israel's most prestigious sites which form the cornerstones of the country's heritage, culture and political institutions. They included, inter alia, the Knesset, Massada, the Dead Sea, Yad Vashem, Independence Hall, the Menachem Begin Heritage Center, Caesarea and the Sea of Galilee.

In addition to receiving tours of Israel's borders with Syria, Gaza and Lebanon, the cadets were afforded a unique opportunity to receive briefings from some of the most prominent names in Israel's political arena, among them Minister Yoav Galant, former Israeli Ambassador to the US Michael Oren, Ambassador Arthur Koll and Director General of Ministry of Justice Emi Palmor, no less than five Majors General and several Brigadiers-General, as well as Supreme Court Justice Neil Hendel.

Moreover, participants were treated to military briefings delivered by the IDF's most distinguished experts, such as Major Generals Noam Tibon, Dan Efrony and Gershon HaCohen

Speaking in an interview with Ynetnews, four of the cadets shared their thoughts on their first experiences of the country.

Lauren Larar, a senior at the academy and a student of Political Science, said that while it was a somewhat peculiar site for her to witness IDF soldiers carrying guns when she first walked Israel's streets, any anxiety was swiftly replaced by a heightened sense of security.

For Lauren, the trip also offered the chance to put into perspective the media reports filling the TV screens and headlines back home.

"I think you kind of have a misconception in your mind before you come…Being here and actually seeing everything and seeing all the people certainly put meaning behind everything you see in the news and all of the media and everything you learn in school," Lauren said.

"We have had a unique perspective in that we have spent a lot of time talking to people who live here. We heard opinions from both sides on a lot of different issues and I think that is something you just can't get unless you come here and actually see it with your own eyes and talk to the people yourself," she continued

Upon completing her tour of Israel, Lauren acknowledged the limitations of acquiring comprehensive knowledge about the country from afar.

"To be honest I think I didn't really have such a great idea of the reality of Israel until we came here in terms of the security aspect," she added, emphasizing that one of her first observations was the stark contrast between that which she encountered and the international media's coverage of the conflict.

Austin Neal, a 22-year-old pre-law major from West Point was able to draw on knowledge he gained during classes he elected on Middle Eastern issues. Prior to the tour, Austin said he believed he had formed a reasonable idea about the country given the media's extensive reports, particularly about Gaza, Syria and Lebanon. Nevertheless, he said he recognized the shortfalls in his understanding which were most conspicuously highlighted by his exposure to the reality on the ground.

He too noted the differences between the preconceptions constructed by the media and the reality he witnessed during his whirlwind visit.

Concurring with Lauren's analysis, Austin said "I expected it to be a lot more intense, especially around the borders we went to, but I felt safe even around the hot areas. It didn't seem nearly as violent as it is has been portrayed to me."

Even when glimpses of danger occasionally arose, such as when the group found themselves in Jerusalem during the Temple Mount terror attack, Austin said that at no point did a sense of trepidation suffocate his sense of security.

"We were in Jerusalem when an attack ocurred a few days ago and there wasn't a time when I didn't feel safe. I felt safe the entire time,' he continued, adding that "in terms of security, Israel's got a hold on what they're doing pretty well."

Drew Bennet, a junior at the US Naval Academy, studying Political Science explained that the concerns of his parents during his trip turned out to be entirely unfounded.

"I've been in touch with my parents because they are very nervous on my behalf for coming here, but I keep telling them I feel a lot safer here than I do in a lot of US cities walking around at night," he asserted.

Drew also stressed that fully comprehending Israel's minuscule size, and the concomitant security challenges the country faces, was next to impossible by merely poring over a map.

Only being informed that the world's most war-torn spots lay just a matter of hours away enabled Drew to develop a greater appreciation and understanding of Israel's geographic hardships.

"Coming here and just seeing just how small it is, especially coming from the US where everything seems really big and oversized," was what most struck Drew. "This is a very condensed place and when we were standing on the Syrian border and they said a 6 hours drive away from here is Bagdad or Damascus it put into perspective just how close by everything is.

"On a map it looks small but it's all a very faraway perspective when you are reading about it and I think coming and realizing that things are merely a six hour drive that way is a lot easier to comprehend."

At the same time, Drew's newfound comprehension of Israel's narrow borders also fostered greater admiration for the country which he said he commended for its marked preeminence in the face of adversity.

"Beyond the borders there are a lot of other things going on but within the borders everything seems to be moving in a very positive direction," he stated.

Human Geography student Hannah Fairfield, who will soon be a West Point senior, is interested in culture and said she was excited to familiarize herself with the different cultures Israel had to offer, but she also explained how hearing from generals and commanders who fought in some of Israel's most famous wars, on the very battlegrounds on which they were fought, was an unforgettable experience.

"You can read about this battle or that battle but actually hearing from a general who actually went through battles and hearing the thoughts that went through his head at the time is an invaluable experience to gain knowledge," Hannah said. "Just as we have the opportunity to gain that insight from people from the US military at school, it's interesting to get it from a different perspective."

Asked which of the sites she visited had the most profound impact on her, Hannah pointed to the proximity of Israel's air defense sites to the civilian population. "It was crazy to me just how close we were to the city. Everything is just really compact and they really don't have much operational depth. The IDF is really impressive in that sense how they still get everything done that they have to get done."

"I would say the Valley of Tears (a battle site during the 1973 Yom Kippur War) just because of the magnitude of that battle and just how Israel responded, severely outnumbered. It didn't have the advantage of terrain," Austin interjected, before reflecting on the words he heard from an IDF commander who fought there.

"For him to stand up there and relive his story and for us to make that connection with it was probably the most rewarding thing for me."

Yet beyond the operational difficulties with which Israel contends, the most impressive reality for Austin were the positive results and the fruits of comparative peace that have flowed out of Israel's military prowess.

"Israel was born and the next day they were attacked by 5 Arab nations and that has been their role for at least the better half of a century just having to fight and be the underdog. We have had the advantage of coming here now in 2017 and we are learning that Egypt and Jordan are on better terms. That's what sticks with me."

But while Drew also paid homage to the military success of the country, it was what he described as the "miracle" of the Jewish people that he said reserved the most prominent spot in his memory of the tour.

"I think I am taking away a much greater appreciation for the Jewish people in general over the last 2000 years and how much of a miracle it is that Israel has become what it is today by all historical accounts," Drew said.

Citing the contrast between the "modernity of Tel Aviv" and the troubled broader region within which it has blossomed, Drew went on to laud the "one gem of a country that is able to stick out against all the odds."

But Lauren was most profoundly struck by Israel's sense of patriotism, which she said constituted the most inspirational takeaway of the tour.

"To us we think oh my goodness, they have to deal with this, but no matter how difficult the situation was that they told us about, the reoccurring theme at the end of every conversation with every person was just how much they love their country."

While appreciative of Israel's achievements and challenges, Austin praised the organization, Our Soldiers Speak, for its efforts and the indelible impression it had left on him, expressing faith in its abilities to reach greater heights as it continues to bring the best of Israel to the world and the best of the world to Israel.

"I think the organization that brought us over here, Our Soldiers Speak, did a lot of great work bringing in people for us. We met military generals, we got to visit the Knesset, we met journalists and everything. From what I saw I think it's a really good organization… I think it's going to be a really good thing for Israel once it gets up to its full capacity," he concluded.

Founder and Director of the organization, Benjamin Anthony, himself a combat reservist in the IDF, who served as a lone soldier in the Second Lebanon War of 2006, told us that he and Rozita Pnini, President of the organization, are largely uninterested in Israel advocacy.

"I think it's counter-productive." Instead, Anthony said "we strongly believe that whether due to positive circumstances or circumstances that are less than positive, Israel has acquired a degree of expertise in the context of her own challenges that render it a thought leader in matters that have now become issues of international intrigue and global significance.

"Whether in the realm of traditional counter-terror work, or in the realm of lone wolf attacks, whether in the realm of international humanitarian law or in the realm of the internal judicial process, whether on refugee policy, medical aid, humanitarian missions or interfaith dialogue and co-existence, the State and the people of Israel have a voice that is now more relevant and central than ever before when it comes to the global discourse. Our task is to bring that voice to the world and to bring those willing to listen, to learn and to contribute, back to Israel. We won't do that from the stance of advocacy. That is wholly uninteresting."

Emphasizing the organization's reluctance to engage in advocacy work, Anthony said: "Where placards are foisted in the air, and slogans hijack civil discourse, or shallow catchphrases are deployed, you will not find us there."

On the other hand, he continued, "Where Israel is discussed in a substantive, informed way; from elite campuses, to select graduate schools and in the offices of elected officials, that is precisely where we will be; proudly undertaking our duty to draw together substance, pride and results, based upon policy, strategy and a readiness to educate."

Finally, Anthony expressed his gratitude to the cadets for joining his organization on the tour.

"It was our privilege to host such unique individuals as those who came from the academies. They will one day be the guardians of the great United States in the US Armed Forces. We thank them for their time and their commitment to their country. It is a testament to them that we were able to reach such great heights during this tour. We look forward to following along with them and we appreciate having the opportunity to educate them on realities that will surely escort them throughout their careers as officers and far beyond. Now we look forward to taking our work to the next level," he concluded.