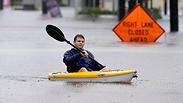 Houston underwater
Photo: EPA
With Hurricane Harvey leaving Houston, Israeli Houstonian Yaniv Jerupi shared his risky rescue efforts in the neighborhood, including kayaking to save an elderly couple trapped in their home.

Follow Ynetnews on Facebook and Twitter

Jerupi, an Israeli residing in the fourth largest city in the US documented the devastation throughout the city, telling Ynet his home in the Meyerland neighborhood wasn't hit due to its high altitude, but the house of his friend Lior was completely flooded. He also documented how rising water levels almost completely covered street signs in the neighborhood.

In his 15 years of living in the US, Jerupi says he has never seen a storm as hard hitting as Harvey. "We've been through Ike, Rita and Hurricane Katrina," he says, "but nothing could prepare us for this kind of storm. No housing evacuations were ordered so we didn't think damage would be this great. When we realized the neighborhoods were flooded it was already too late."

Jerupi also said that in the hour of crisis, his instinct as a former IDF soldier came to the fore."Our character, and the Israeli ex-soldier instinct, led us to search for Israeli families who have been cut off due to the floods," he said, "and we made sure to take them to safety."

He further recounted his daring improvised rescue effort using a Kayak. "I took a kayak out to the heart of the neighborhood with three friends and we managed to save a couple of seniors whose house was flooded with water reaching a height of a meter-and-a-half."

Footage showing devastation in Houston following Hurricane Harvey (צילום: רויטרס)

Witnessing the suffering of people hardest hit by the hurricane was no easy task for Jerupi. "My heart ached at seeing people trapped and crying out in despair," he concluded. "The street morphed into a three-meter deep river and helicopters extracted people from roofs."

Houston Mayor Sylvester Turner announced Wednesday a curfew will be placed in the city during the night starting midnight and until 5 am due to the flooding to the city's streets.

Turner noted the curfew will remain in place until further notice and granted local police the authority to arrest anyone breaking it.

After hitting Houston, Hurricane Harvey is pushing on eastward to Louisiana, as residents once again brace themselves to be battered by its merciless ferocity. Indeed, Louisiana was already hit badly more than a decade ago by Hurricane Katrina.

In the meantime, the storm's casualty number rose to 18, after identification of three additional bodies.

Houston has been hit with more than 1,295 millimeters of rain since Harvey—a hurricane which has since turned into a tropical storm—began, as measured by a local station in the city's southeast.

This marks the largest rainfall on the heels of a hurricane or tropic storm in the United States. By comparison, Israel's rainiest regions in the north of the country see less than 1,000 millimeters of rain during the entire winter season. Tel Aviv, for instance, sees 583 millimeters of rain in an entire season, less than half the amount to hit Houston in a much shorter period.

The commander of the Houston police department said vehicle traffic during the night makes it harder for rescue teams to reach the homes of people who've been trapped in them. "Too many people are out and about during the night, and I don't want anyone taking advantage of the situation to break into houses," he said.

The mayor's spokesman added the only ones not beholden to the curfew order are rescue teams, journalists, shelter seekers and those who work at night.