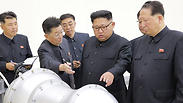 North Korea's leader Kim Jong Un looking at a purported H-bomb
Photo: Reuters
SEOUL - North Korea claimed Sunday it has successfully conducted test of hydrogen bomb meant for intercontinental ballistic missile, hours after Japan and South Korea confirmed the North had detonated its sixth and most powerful nuclear test.

The hydrogen bomb test ordered by leader Kim Jong Un was a "perfect success" and was a "meaningful" step in completing the country's nuclear weapons program, state television said.

The announcement came hours after Japan and South Korea detected an artificial earthquake at 12:29 pm local time, originating in Kilju, northern Hamgyong province, near the North's test site—measured by the US Geological Survey (USGS) at magnitude 6.3—with meteorological officials saying it was around 10 times more powerful than previous detonations.




China's earthquake administration detected a second tremor of magnitude 4.6 in North Korea minutes after the first. It described the event as a cave-in. South Korea's weather agency, however, said no second quake occurred.

The move is a direct challenge to US President Donald Trump, who hours earlier had talked by phone with Japanese Prime Minister Shinzo Abe about the "escalating" nuclear crisis in the region.

The US State Department had no immediate reaction. South Korea's presidential office said it will hold a National Security Council meeting chaired by President Moon Jae-in. South Korea's military said it has strengthened its monitoring and readiness while mulling a variety of possible responses that could be executed in collaboration with the US.


Japan immediately raised the prospect of further sanctions against the isolated North, with Chief Cabinet Secretary Yoshihide Suga saying that curbs on its oil trade would be on the table.

"It is absolutely unacceptable if North Korea did force another nuclear test, and we must protest strongly," Japanese Prime Minister Shinzo Abe said.

A US official who studies North Korea's military and politics said that seismic data on the tremors was being analyzed, although the location suggested another nuclear test.

The official, who spoke on the condition of anonymity, said it was too early to determine if a test—if there was one—supported the North's claim that has succeeded in developing a thermonuclear weapon, "much less one that could be mounted on an ICBM and re-enter Earth's atmosphere without burning up."

The hydrogen bomb report by North Korea's official KCNA news agency comes amid heightened regional tension following Pyongyang's two tests of intercontinental ballistic missiles (ICBM) in July that potentially could fly about 10,000 km (6,200 miles), putting many parts of the mainland United States within range.

Under third-generation leader Kim Jong Un, North Korea has been pursuing a nuclear device small and light enough to fit on a long-range ballistic missile, without affecting its range and making it capable of surviving re-entry into the Earth's atmosphere.

One expert said the size of Sunday's detonation meant it was possible it could be a hydrogen bomb test.

"The power is 10 or 20 times or even more than previous ones," Said Kune Y. Suh, a nuclear engineering professor at Seoul National University. "That scale is to the level where anyone can say a hydrogen bomb test."
'Manmade' earthquake
Witnesses in the Chinese city of Yanji, on the border with North Korea, said they felt a tremor that lasted roughly 10 seconds, followed by an aftershock. China said it had detected a second, 4.6 magnitude quake with near identical coordinates eight minutes later.

South Korea's military said the first earthquake "appeared to be manmade." Japan said it had concluded there was a nuclear test.

"North Korea's mission is quite clear when it comes to this latest atomic test: to develop a nuclear arsenal that can strike all of Asia and the US homeland," Harry Kazianis, director of defence studies at the conservative Center for the National Interest in Washington, said.

"This test is just another step towards such a goal. None of us should be shocked by Pyongyang's latest actions."

Vipin Narang, a Massachusetts Institute of Technology professor specializing in nuclear strategy, said before the earthquake that it's important to note that the photos showed only a mockup of a two-stage thermonuclear device, or H-bomb. "We won't know what they have until they test it, and even then there may be a great deal of uncertainty depending on the yield and seismic signature and any isotopes we can detect after a test," he said.

It is almost impossible to independently confirm North Korean statements about its highly secret weapons program. It is clear, however, that each new missile and nuclear test gives the North invaluable information that allows big jumps in capability. A key question is how far North Korea has gotten in efforts to consistently shrink down nuclear warheads so they can fit on long-range missiles.

"Though we cannot verify the claim, (North Korea) wants us to believe that it can launch a thermonuclear strike now, if it is attacked," Adam Mount, a senior fellow at the Center for American Progress, said before the quake. "Importantly, (North Korea) will also want to test this warhead, probably at a larger yield, to demonstrate this capability."

Earthquakes triggered by North Korean nuclear tests have gradually increased in magnitude since Pyongyang's first test in 2006, indicating the isolated country is steadily improving the destructive power of its nuclear technology.

After the fifth nuclear test in September, USGS measured a magnitude of 5.3. while South Korean monitors said the blast caused a 5.0 magnitude earthquake.

North Korea, which carries out its nuclear and missile programs in defiance of UN Security Council resolutions and sanctions, "recently succeeded" in making a more advanced hydrogen bomb that will be loaded on to an ICBM, KCNA said.

"The H-bomb, the explosive power of which is adjustable from tens kiloton to hundreds kiloton, is a multi-functional thermonuclear nuke with great destructive power," KCNA said.

"All components of the H-bomb were homemade and all the processes ... were put on the Juche basis, thus enabling the country to produce powerful nuclear weapons as many as it wants," KCNA quoted Kim as saying.

Juche is North Korea's homegrown ideology of self-reliance that is a mix of Marxism and extreme nationalism preached by state founder Kim Il Sung, the current leader's grandfather. It says its weapons programs are needed to counter US aggression.

North Korea offered no evidence for its latest claim, and Kim Dong-yub, a military expert at Kyungnam University's Institute of Far Eastern Studies in Seoul, was skeptical.

"Referring to tens to hundreds of kilotons, it doesn't appear to be talking about a fully fledged H-bomb. It's more likely a boosted nuclear device," Kim said, referring to an atomic bomb which uses some hydrogen isotopes to boost explosive yield.

A hydrogen bomb can achieve thousands of kilotons of explosive yield—massively more powerful than some 10 to 15 kilotons that North Korea's last nuclear test in September was estimated to have produced, similar to the bomb dropped on Hiroshima, Japan, in 1945.
Hourglass-shaped device
Kim Jong Un, who visited the country's nuclear weapons institute, "watched an H-bomb to be loaded into new ICBM" and "set forth tasks to be fulfilled in the research into nukes," KCNA said.

Pictures released by the agency showed Kim inspecting a silver-colored, hourglass-shaped warhead in the visit accompanied by nuclear scientists.

The shape shows a marked difference from pictures of the ball-shaped device North Korea released in March last year, and appears to indicate the appearance of a two-stage thermonuclear weapon, or a hydrogen bomb, said Lee Choon-geun, senior research fellow at state-run Science and Technology Policy Institute.

"The pictures show a more complete form of a possible hydrogen bomb, with a primary fission bomb and a secondary fusion stage connected together in an hourglass shape," Lee said.

North Korea's nuclear and missile program has made huge strides since Kim rose to power following his father's death in late 2011. The North followed its two tests of Hwasong-14 ICBMs by threatening in August to launch a salvo of its Hwasong-12 intermediate range missiles toward the US Pacific island territory of Guam. US President Donald Trump said Pyongyang would face "fire and fury" if it threatened the United States.

The North flew a Hwasong-12 over northern Japan last week, the first such overflight by a missile capable of carrying nukes, in a launch Kim described as a "meaningful prelude" to containing Guam, the home of major US military facilities, and more ballistic missile tests targeting the Pacific.

The United States has repeatedly urged China, the North's sole major ally, to do more to rein in its neighbor.

Impoverished North Korea and the rich, democratic South are technically still at war because their 1950-53 conflict ended in a truce, not a peace treaty. The North regularly threatens to destroy the South and its main ally, the United States.

The Associated Press contributed to this report.