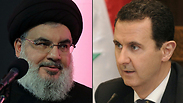 Nasrallah and Assad
Photo: AFP, HO / SANA
When Nasrallah strikes a deal with Syria
Analysis: Nasrallah's deal with Syria to move 300 ISIS militants from the Syrian border with Lebanon to their border with Iraq could be another sign of Iran's attempt to establish its presence in Lebanon. This is a worrying step that could destabilize the area right before the Iraqi presidential election.
On his exit from the bunker, which he entered on his own volition 11 years ago, in one of the suburbs of Beirut, the secretary-general of Hezbollah tends to dress-up. Hassan Nasrallah ditches his thawb and Turban and wears regular trousers, a light shirt and a jacket—very businessman-esque.

There were years when he rightly feared that once he was identified outside his hiding place, Israel would be quick to settle their score with him.

When he discovered that the Israelis were almost completely ignoring him, Nasrallah began to fear—again rightly so—that his innumerable rivals in Lebanon or the proxies of his rivals in neighboring countries would seize the opportunity as soon as they could get their hands on him: With an explosive device or pistol held to his head.

Nasrallah knows that he is transparent to Israeli eyes. There are those whose job it is to identify when he is tired of shutting himself up in a bunker and goes to another, as at his disposal are three bunkers he wanders between. Israel also made sure to hint to him that his secret trips to Damascus and Tehran are no secret from their eyes. Nasrallah himself knows that we know.

He is still worried about drones in the skies of Beirut, and on the other hand, he has come to appreciate that he is an immediate target of Israel, and that there is no such thing as an assassination squad sent to ambush him.

Therefore, Nasrallah's public announcement about his trip to Damascus to meet with Bashar al-Assad shouldn't have surprised anyone.

All in all, he left his bunker in his regular fashion, dressed in disguise, boarded a vehicle with his security guards—also in civilian clothes, other vehicles joined to secure the convoy along the road, and the 90-minute journey passed smoothly.

It is much more interesting to ponder what happened in the conversation between the two, and why the deal between Hezbollah and ISIS could not be closed over the phone.

Here are some more insights from the deal: In the series of secret contacts, and in the meeting with Assad, Nasrallah replaced the Lebanese chief of staff. It was him, and not Brigadier-General Joseph Aoun who brokered the plan to expel 300 ISIS militants who had settled along the Syrian-Lebanese border.

The militants come out of hiding along with their personal weapons, their families join, and Lebanon and Syria pledge not to harm the convoy. In return, the bodies of nine Lebanese army soldiers and an Iranian soldier who were murdered by ISIS will be returned, along with two other live captives.

But on Friday, the convoy turned into a humanitarian crisis. US coalition planes bombed the road, six buses got stranded, women and children were left without food or water, and aid vehicles were blocked because of air strikes.

By the way, a similar deal has been denounced and slandered by Nasrallah. At that time, they were ISIS terrorists expelled from Mosul in Iraq, and Nasrallah called the Iraqi government ministers "agents" and accused them of collaborating with the US military.

The "liberation deal," as Nasrallah called it, is intended to relocate the militants to Deir ez-Zor in Syria, which is controlled by ISIS and close to the border with Iraq. This is like a bone re-stuck in the throat of Haider al-Abadi, the prime minister of Iraq, who sees how Nasrallah, encouraged by Tehran, kicked 300 armed ISIS terrorists into his side of the field.

Nasrallah and Iran are aware of the timetable: Soon the presidential elections will take place in Iraq, and in three weeks the referendum on the independence of Kurdistan was be held. The pressures from the Turkish, Iraqi and Iranian sides will continue until the last minute, and the deal that returns 300 ISIS terrorists and their families to the area only adds more fuel to the fire.

What is certain is that Nasrallah cleaned up the Lebanese arena for Iran's Revolutionary Guard and the "advisers" from Tehran. More and more signs indicate that the Iranians, who are seeking a parallel regime in Lebanon and are aided by Hezbollah, are coming for a prolonged settlement there. Exactly according to the scenario of King Abdullah of Jordan, who insisted on the danger of the Shiite Crescent (Iran-Iraq-Syria-Lebanon) years ago in our neighborhood.