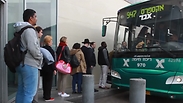 File photo
Photo: Ido Erez
Israel's state attorney asked the High Court of Justice Tuesday to reject a petition recently submitted which sought permission to operate public transportation on Saturdays, pointing to the fact that such services already run according to essential needs.

In response to the petition—submitted by several people including MK Tamar Zandberg (Meretz) and the "Free Israel movement"—the state highlighted that certain transport lines operate either after Shabbat enters or before it ends.

The state further claimed special, specific requests may be made to operate certain lines on Saturdays which are examined and considered in accordance with the law.

"As far as the law is concerned regulating the giving of licenses for driving on Saturdays is based on a general prohibition to provide said licenses," the state's response said.

"This prohibition is itself based on the law directing the relevant minister to take Israel's traditions into account as much as possible when determining vehicle traffic on Shabbat," the response continued. "Providing licenses for driving on Saturdays, for what few cases specified in regulations, is therefore irregular and is thusly done sparingly."

This past June several Haredi MKs sent a joint letter to the Director-General of the Ministry of Transportation Karen Turner asking her to deny permits for public transportation on Saturdays in cities where municipal authorities allow for such transportation.

The letter—signed by MKs Michael Malchieli and Yoav Ben-Tzur of Shas and MKs Uri Maklev and Yisrael Eichler of United Torah Judaism—made mention of lines operating on Saturdays in Holon, Ramat Hasharon and Herzliya.

"Amendment 28 to the Traffic Ordinance allows the Minister of Transportation to salvage Shabbat's dignity and decrease public desecration of it," wrote the MKs.

"The amendment states the 'minister will take into account the traditions of Israel as much as possible, as it pertains to prohibiting vehicle traffic on days of rest'," the letter further stated. "This means decreasing the desecration of Shabbat and Jewish holidays with public transportation, as opposed to private Shabbat desecration using public vehicles, which does not fall under the scope of the regulation's influence.

"Since municipal authorities or any other public agencies are public authorities, it's within the minister's power to lessen public Shabbat desecration," the MKs insisted, "through a renewed examination of permits given in the past, or refusing new permits for operating public transport lines before Shabbat ends."