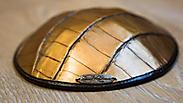 A NIS 4,000 kippah made of alligator skin
Photo: Alex Kolomoisky
Jerusalem Judaica store offers exotic animal-hide kippot
'Fifth Quarter' Judaica store in Jerusalem's Old City sells new line of kippot made of exotic animal skins, such as alligator and python, priced at thousands of shekels; 'People wearing Gucci suits will want high-end kippah to go with it,' says store's owner.
A Jerusalem Judaica store announced a new line of luxury kippot (skullcaps) made of exotic animal hide, such as alligator, python, cow and—coming soon—ostrich, with each one going for thousands of shekels.

"These kippot were born out of the desire to provide people who live in a world of luxury and brands a kippah befitting their lifestyle," explained Eli Mordechai, owner of the "Fifth Quarter" Judaica store in Jerusalem's Old City and importer of these specialty items. "A person wearing a 10,000-dollar Gucci suit won't be caught dead wearing a 50-dollar off-brand kippah."

The kippot are manufactured by David Reutmann, a businessman originally from Israel, who was on the lookout for "glam kippot" for himself but failed to find any. Determined to fill the apparent gap in the market, Reutmann opened a high-end Judaica product business. According to him, the kippot are made of the finest Italian leathers and come in luxurious wooden boxes.

Compared to "regular" kippot, which are usually sold at affordable prices, Reutmann's kippot can go for thousands of shekels, with the alligator-skin kippah costing NIS 4,000, (approximately $1,100) and the python-skin one setting you back NIS 5,000 (approximately $1,400).

Who'd be willing to pay these exorbitant sums? "The primary audience is rich Russian oligarchs, but now it's any self-respecting people who wish to display their Jewish identity," said Mordechai before proudly bragging that "The business expanded to Europe and the US first, and we're the first place to sell them in Israel."

So far, the kippot have gotten some mixed reactions. "Some people think it's too expensive and ask who needs it, but others are happy someone has finally taken it upon themselves to offer quality kippot," said Mordechai.

As for the fact some of the kippot are made from the hides of animals that are not considered kosher, Mordechai insisted it poses no problem from the perspective of Jewish law. "The kippah itself isn't a ritual article like the tefillin, mezuzah or Torah, necessitating the use of the skin of only kosher animals. Fabric, leather or any other material is permissible."