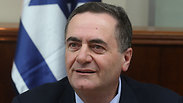 Yisrael Katz
Photo: Marc Israel Sellem
Israel's intel minister warns Iran seeking deal for long-term Syria garrison
Refusing to elaborate on sources, Yisrael Katz tells security conference Syria's Assad ready to ink deal permitting Iranian military presence in his country including naval port and bases for Iran's air and ground forces, posing a long-term 'danger and the threat against Israel.'
Minister of Intelligence Yisrael Katz said on Monday that President Bashar al-Assad was ready to permit Iran to set up military bases in Syria that would pose a long-term threat to neighbouring Israel.

While formally neutral on the six-year-old Syrian civil war, Israel has expressed concerns that Assad's recent gains have given his Iranian and Lebanese Hezbollah allies a foothold on its northern front.

Prime Minister Benjamin Netanyahu has lobbied Russia, Assad's most powerful backer, and the United States to curb the Iranian presence in Syria—as well as hinting that Israel could launch preemptive strikes against its arch-foe there.

In July, Moscow ratified a deal under which Damascus allowed the Russian air base in Syria's Latakia Province to remain for almost half a century. Minister Katz said Iran could soon gain similar rights.

"In these very days, Assad and Iran are nearing the signing of a long-term agreement that would anchor Iran's military presence in Syria, resembling the agreement that was signed between Assad and the Russians," Katz told a security conference hosted by IDC Herzliya, a university near Tel Aviv.

"The significance in terms of the danger and the threat against Israel—and not just against Israel, but also many countries in the region—is of the utmost clarity."

Katz did not elaborate on the source of his information or give any further details about the purported negotiations.

The Iranian Foreign Ministry declined to comment and Syrian officials could not be reached.

Katz said the plan was for an Iranian naval port, bases for Iran's air and ground forces, and "tens of thousands of Shiite militiamen being brought in from various countries" to fight alongside their Iranian and Hezbollah co-religionists in Syria.

Iran's presence in Syria, and efforts to bolster Hezbollah in Lebanon, are expected to feature in Netanyahu's address to the United Nations General Assembly on September 19.

Also at the conference, Katz urged Prime Minister Benjamin Netanyahu to push President Donald Trump to cancel or freeze the international community's nuclear deal with Iran, saying this should be his "primary mission."

Katz said the world's failed attempts to negotiate a halt to North Korea's nuclear program provide a lesson. "Iran is the new North Korea," he said. "We need to act now so we won't be sorry tomorrow about what we didn't do yesterday."

The deal offered Iran relief from international sanctions in exchange for curbs on its nuclear program. Israel has repeatedly claimed the deal will not prevent Iran from developing a nuclear weapons capability.