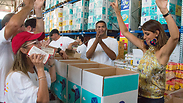 Latet volunteers prepare food packages for needy
Needy families in Israel: 'We have no food for the holidays'
Yuval had to desert his army post so he could work and help his family ahead of the High Holy Days. Dolly from Bat Yam, a 46-year-old cancer patient and a mother of six, and Bezalel Cohen and his wife, both disabled, are all dependant on aid groups for food. Ahead of Rosh Hashanah, NGOs across Israel are working overtime to distribute as many food packages to needy families as possible.
Just like every year, hundreds of thousands of Israeli families who live in poverty will receive food packages from aid organizations so they could celebrate Rosh Hashanah properly.

"I explained to the welfare officer we were going into the holidays period with nothing, we have nothing. The refrigerator only has a bottle of water, and we don't know how we're going to celebrate the holiday. I asked them to approve time off for me to work, so she told me 'desert your post,'" says IDF soldier Yuval (not his real name), who comes from a family of eight and recently returned to his unit after a two-week desertion, which he spent helping his family ahead of the High Holy Days.

"The situation started deteriorating several years ago, when my parents' textile business ran into problems and then went bankrupt. Before this, we were well to do," Yuval recounts.

"Our debts swelled because of the interest rates and the bounced checks. My father became ill as a result, suffered strokes and passed away. My mother also suffered serious health issues, and she couldn't walk. Our electricity bill is high because she needs special equipment. She makes a living collecting bottles (for the deposit refund), but her electric scooter was recently stolen, and now she can't even do that. She gets a NIS 2,200 stipend and is supposed to run the house with that. She has two soldier sons serving the country.

"I don't remember when the last time I bought clothes was," Yuval adds. "Only from charity second- and third-hand stores. Not to mention other things I don't even dare dream of."

Over the two weeks he spent away from the IDF, Yuval tried to help his family. "I worked in haulage, waitressing, anything I could find. But eventually I don't think I was able to change the situation much."

Yuval's family will be one of 15,000 families to receive food packages for Rosh Hashanah worth some NIS 7.5 million from the Chasdei Naomi organization. The NGO, founded over 30 years ago, well hand out the packages at four main distribution centers—Bnei Brak, Jerusalem, Tel Aviv and Bat Yam—and in 33 additional locations throughout the country from Be'er Sheva in the south to Acre and Nahariya in the north.

In addition, its sister organization Naomi's Heart will help the needy who are sick, with its volunteers arriving directly to their homes to deliver the food packages.

Chasdei Naomi's food package will include oil, grape juice, flour, sugar, olives, pickles, tomato paste, peas, corn, canned pineapple, chocolate spread, rice, tuna, dates, honey cake, honey, cornflakes and snacks. Some of the needy will also receive chicken.
'They're a sympathetic ear, help with everything'
Dolly from Bat Yam, a 46-year-old cancer patient and a mother of six, has been receiving aid from the NGO for 20 years.

She says it's only thanks to the NGO's help that she is celebrating the holidays. "Before their aid, I hadn't celebrated in years, but now I get boxes with meat, wine, fruit, vegetables and food stamps straight to my home," Dolly says.

"They wholeheartedly help, not just during the holidays but also with events like a brit milah (circumcision ceremony) or a bar mitzvah. They're also a sympathetic ear, they help with everything. There are some things they don't have to do, but still do. When I'm in the hospital, they make sure my children have someplace to be. They even help my three soldier sons. I want to tell those who donate—your money is getting to the right places."

Sonia Farhi is an 83-year-old Holocaust survivor who suffers from Parkinson's disease and has recently recovered from gastric cancer. She lives in Jaffa with her 63-year-old daughter, who became a widow a year ago, and is also sick and wheelchair-bound.

Sonia worked at a local clinic for 20 years, but she is only entitled to a meager pension. She lives mostly off benefits and supports both herself and her daughter. The two have to live together because they cannot afford to pay rent separately.

Sonia says just the medications the two need cost over NIS 800 ($230) a month, while the rent is NIS 3,400 ($965), and she can barely get by.

Sonia will receive aid for Rosh Hashanah from the Latet NGO, which sends her a box of food every week along with a volunteer to keep her company, check how she's doing and assist her if necessary. Sonia says it means a lot to her when the volunteer comes to visit, and that it makes her happy. "I thank them," she says. "On holiday eves, they take me to a festive dinner with a singer performing, they talk to us. The food package also helps."

While Sonia is very grateful to the NGO, she is angry at the government. "NIS 3,000 from the National Insurance Institute is not enough to cover the rent. Those who don't have their own homes have no chance of living and not being thrown out to the street," she says.
9,000 volunteers in 195 branches
Latet is an umbrella organization and a national food bank, working in partnership with 180 NGOs and local organizations that operate in 105 communities throughout the country and provide aid to some 60,000 families.

Ahead of Rosh Hashanah and the High Holy Days, 9,000 volunteers are taking part in a national campaign to collect food donations at 195 branches of the Sufersal supermarkets chain. They are also organizing dinners and social events for needy Holocaust survivors across the country.

Thousands of other volunteers from businesses and organizations are working together to pack up tens of thousands of food packages to be distributed by Latet and its partner organizations.

Latet's food packages include two bags of rice, two pasta packages, a bag of legumes, two bottles of canola oil, tomato paste, chocolate and halva spreads, two jars of raw tahini, canned tuna cans, canned corn, honey cookies or cake, honey, wine, two bags of couscous and a frozen chicken. To this package of dry base products, Latet is adding a wide variety of refrigerated products and leftover food from restaurants and stores.

"As this new year begins, there are 243,000 families in Israel who suffer from severe food insecurity and fight a daily battle for survival without the ability to obtain the most basic food necessary for a balanced and proper existence," says Eran Weintraub, the CEO of Latet.

"Even though the rate of poverty in Israel is among the highest in the OECD, no goal has been set and no national plan has been formulated to reduce poverty and decrease social gaps. There isn't even one shekel in the state budget allocated to dealing with the issue of food security," Weintraub laments.

"This situation illustrates the poor priorities the State of Israel and the welfare minister have, and leaves the burden to the civil society and the general public, who prove time and again that mutual responsibility is a real value in Israeli society," he continues.

"This Rosh Hashanah, we turn to the general public and ask them to make the gift of a meal. Instead of buying a holiday gift nobody needs, donate a meal to those who truly need it."

Bezalel Cohen, 68, is disabled. He lives with his wife, who is also disabled, in Rishon Lezion. This coming Rosh Hashanah, they will receive aid from the NGO Pitchon Lev.

"We're living off both of our disability pensions, about NIS 4,500 ($1,280) a month in total," Bezalel says. "Normally, we can't afford food; we only have what we get from the NGO. For the holidays, we get a special menu, more festive, and it makes us feel good, gives us a special feeling. Unfortunately, the state doesn't understand we can't live off the disability benefits."

The NGO Pitchon Lev aids 6,000 needy families every month with food packages, clothing and shoes, toys, appliances, housewares, hairstyling services and medical and legal aid.

For Rosh Hashanah, the organization plans to double its aid, distributing food packages to 13,000 needy families. The holiday food packages, which cost about NIS 380 per family, will include, among other things, wine, apples and pomegranates, honey, meat and fish.

The packages will be handed out in distribution centers in Rishon Lezion and Karmiel before the holiday. In addition, those who can't physically arrive at the distribution centers will have the food packages brought to their homes.

Over 700 volunteers will spend an entire week preparing and distributing the food packages, worth almost NIS 5 million in total.

The NGO Leket Israel, which provides cooked food as well as fruit and vegetables to the needy, is also preparing for Rosh Hashanah. Volunteers are working to prepare the food packages for the holiday at the NGO's logistical center, which will be distributed as part of a project by the Welfare Ministry to some 10,000 families suffering from severe food insecurity.

The Leket Israel food packages will include onions, potatoes, sweet potatoes, melons, eggplants, apples, beets and pears. In addition, the packages will include dry food provided by the Eshel Jerusalem NGO, which also participates in the project.

To make a donation or volunteer:

Latet - https://www.latet.org.il/en/

Pitchon Lev - http://pitchonlev.org.il/len/

Chasdei Naomi - http://www.chasdei-naomi.org/