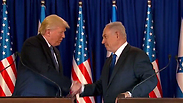 Netanyahu and Trump meet in Jerusalem
Iran to be at center of Netanyahu-Trump meeting in New York
Netanyahu to present Trump with Israel's position that nuclear deal with Iran must be cancelled or significantly changed, with harsher sanctions, increased supervision and commitment from Tehran to stop supporting Hezbollah and Hamas; PM to also present these demands during UN speech.
The Iranian threat will be at the top of Prime Minister Benjamin Netanyahu's agenda in his meeting with US President Donald Trump in New York on Monday.

American officials said the meeting, set for 1pm local time (8pm Israel time), will focus mainly on Iran and not on the Israeli-Palestinian conflict.

Netanyahu will present Israel's position to Trump, according to which the US must work to cancel the nuclear deal with Iran or alternatively make significant changes to it.

Among the changes Israel demands are: harsher sanctions against Tehran; increased supervision on Iran's nuclear program; extending the period of time in which the Islamic republic is barred from enriching weapons-grade uranium beyond the 10 years set in the agreement; demanding Iran to destroy the advanced centrifuges it currently has; demanding Tehran to stop its long-range missile program; and demanding the Islamic republic to commit to stopping its support of Hezbollah and Hamas, both funding and providing arms.

Netanyahu will also present these demands in his speech at the UN General Assembly meeting on Tuesday at 1pm local time (8pm Israel time).

"Israel will not accept Iranian entrenchment on our northern border, which endangers not only us but also our Arab neighbors, and we are committed to acting against it. Today, Israel's words are being taken seriously, and so they should be," Netanyahu said during Friday night dinner with his close entourage in New York.

Netanyahu spent Saturday morning preparing for his speech at the UN. He is expected to continue making changes and corrections to the speech until the last minute, including while at the podium, as he has done in previous years.

The prime minister, who will speak on the opening day of the General Assembly meeting, wants to give a significant speech that would make waves and leave an impression.

He is expected to speak out against the Iran deal and stress how dangerous it is. He will also make plain his position on Iran's entrenchment in Syria and note the Islamic republic has been quick to fill any void created following ISIS's departure.

Netanyahu will also refer to the Palestinian issue, saying Israel is reaching out to the Palestinians and is ready and willing to negotiate without preconditions.

Trump will also speak on Monday and try to recruit the UN's member states to US efforts against North Korea's nuclear and ballistic missile programs and the Iranian nuclear threat.

In addition to Trump, Netanyahu is expected to hold a series of meetings with other world leaders while in New York, including Japanese Prime Minister Shinzō Abe, Rwandan President Paul Kagame, Panamanian President Juan Carlos Varela, Honduran President Juan Orlando Hernández and Brazilian President Michel Temer.

Netanyahu is said to have rejected the invitation of Swedish Prime Minister Stefan Löfven to meet, due to Sweden's longstanding support of the Palestinians, namely in UNESCO's most recent decision on the status of Jerusalem.

A conference of the countries financially assisting the Palestinian Authority will also be held Monday in New York, with Israel represented by the Minister of Regional Cooperation Tzachi Hanegbi and Coordinator of Government Activities in the Territories Maj.-Gen. Yoav Mordechai.

At the behest of Trump's envoy to the Middle East Jason Greenblatt, Israel has acquiesced to prepare a number of financial relief moves for the Palestinians, including creating an industrial zone and desalination plant in Gaza, an industrial area in Area C of the West Bank and more.
Trump speaks briefly with Jewish leaders
President Trump held Friday the traditional White House conference call with US Jewish leaders before Rosh Hashanah. This year, it was unclear whether the conversation would take place following Trump's failure to unequivocally denounce the white nationalist movement after events taking place in Charlottesville.

The conference call did end up taking place, but no Reform rabbis were invited by the White House to participate. The call lasted only eight minutes, as opposed to 45 during the Obama administration, and no questions were allowed to be asked by the Jewish leaders.

"We forcefully condemn those who seek to incite anti-Semitism, or to spread any form of slander and hate—and I will ensure we protect Jewish communities, and all communities, that face threats to their safety," Trump said regarding recent anti-Semitic flare-ups in the US.

Trump also spoke about American Israeli relations. "The United States will always support Israel not only because of the vital security partnership between our two nations, but because of the shared values between our two peoples. That is why my administration has successfully pressured the United Nations to withdraw the unfair and biased report against Israel—that was a horrible thing that they did—and to instead focus on real threats to our security, such as Iran, Hezbollah, and ISIS," he said.

The president also noted his UN ambassador Nikki Haley has made it a top priority to ensure international bodies to single out Israel for criticism. "I can tell you on a personal basis, I love Israel," he added.

"This next New Year also offers a new opportunity to seek peace between the Israelis and Palestinians, and I am very hopeful that we will see significant progress before the end of the year. Ambassador David Friedman, Jared (Kushner), Jason (Greenblatt), and the rest of my team are working very hard to achieve a peace agreement. I think it's something that actually could happen."

At the call's conclusion, Trump wished the Jewish community's leaders "Shana tova" in Hebrew and added, "Melania and I wish everyone a sweet, healthy, and peaceful New Year."
Abbas not expected to meet Netanyahu
President Trump is expected to meet with Palestinian President Mahmoud Abbas on the sidelines of the UN General Assembly meeting to discuss the peace process. The Americans are also exerting pressure on the Palestinian chief to soften the rhetoric of his upcoming speech.
Abbas is expected to speak Wednesday, Rosh Hashanah eve, a day following Netanyahu's own speech. While both are expected to meet President Trump, no joint Israeli-Palestinian meeting will take place, either with the American president or without him.
Abbas's speech will likely outline the current status of the Palestinian people, and attack Israel for its actions in the West Bank and Gaza—as it does every year—highlighting the future aspirations Palestinians wish to realize.
The chief reason for the speech's subdued tones is ongoing American efforts to jumpstart negotiations, also contributing to Trump's meeting with the Palestinian president.
Parties within the Palestinian Authority's leadership, however, were less than thrilled with the White House's continued refusal to express American support for the two-state solution and failure to unequivocally announce support for the creation of an independent, sovereign Palestinian state.