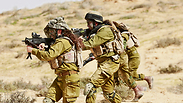 Mixed IDF units to see lighter physical tests for female soldiers
Six months after instructing that women in mixed brigades carry 4 full magazines rather than 6, Brig. Gen. Mordechai Kahane announces decision to do away with demand that female soldiers clear an obstacle wall as part of physical assessments; 'In two wars in Lebanon and Gaza I never saw a need to clear this kind of wall.'
The IDF is easing the requirements for basic training courses for female soldiers in mixed units by scrapping certain aspects of physical assessments following a decision taken by Combat Intelligence Collection Corps Brig. Gen. Mordechai Kahane.

In an effort to ease the physical burden on women, Kahane said that the bar would be lowered during basic training by abolishing a requirement demanding that female soldiers jump over a wall—a component in the assessment that has proven to be, in many cases, an insurmountable obstacle for women.

The process for reducing the pressure exerted on female soldiers during their basic training began in August as part of a program headed by Kahane which was intended to discern and learn key lessons from basic training methods in recent years.

The IDF has in the past been criticized for the fact that girls were required to either clear a smaller wall or were assisted by a bench.

Unlike the US army, which sets an identical bar for men and women in the their military training, the IDF permits different criteria for women in accordance with physical differences.

Kahane, who served in the past as a commander in the special 'Egoz' unit during the Second Lebanon War and fought in Gaza, argued that there was no justification for demanding that women surmount a wall as they undergo their basic training.

"In two wars in Lebanon and Gaza I never saw a need to clear this kind of wall," Kahane said during discussions on the matter.

Underpinning his point, Kahane drew on his experiences when he presided over a commanders' course.

Fewer than half of the soldiers from the elite infantry brigade managed to clear the wall before the course began, Kahane said, concluding therefore that it was not an accurate measure for examining the physical capabilities of a male or female soldier.

The decision to do away with the wall is not the only measure implemented by Kahane designed to alleviate physical burdens on female soldiers.

Six months ago he instructed that the number of full magazines carried by women in their combat vests be reduced from six to four.

"If four magazines are not enough for female soldiers, while other male and female soldiers are around them, the battle has already been decided," Kahane told the commanders mooting the topic at the time.

"When I was a commander in Egoz we fought in Lebanon for more than 30 days and there was not a single soldier for whom the magazines in his vest were not enough."

In addition to the assistance provided for female soldiers when climbing over the wall, male soldiers are also required to run three kilometres as part of their physical assessments as opposed to their female counterparts who are required to run two.

Kahane also came under criticism when he decreed that male and female soldiers be split up for certain classes, explaining that it would optimize the time for basic training that was already slashed due to separate physical training for men and women.

Regardless of the criticism, demand for drafting into the mixed units has reached a record high, especially among men.

In the March draft, 200 more men joined such units. Since then the number of requests has rocketed to more than 500, outpacing the number of men racing toward other combat infantry units.

The jump in numbers however indicates a desire among soldiers to serve in combat positions which consist of comparatively less intense training courses.