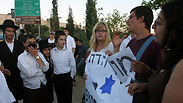 Secular and Haredi Jews clash in Jerusalem
Photo: Gil Yohanan
Survey finds Israeli Jews seek separation of religion from state
Religion & State Index finds 86% of Israeli Jews believe state should ensure freedom of religion and conscience for all of its citizens, while 65% call for equal rights and recognition to non-Orthodox Jews; 82% think ultra-Orthodox schools must be require to teach core curriculum subjects, while 36% call to conscript all yeshiva students.
Israelis have lost hope in the possibility of a Jewish and democratic coexistence, according to the Religion & State Index released on Monday.

Support for a separation of church and state is on a constant rise, jumping from 56 percent in 2012 to 68% in 2017.

The index, conducted by the Smith Polling Institute for Hiddush - Freedom of Religion for Israel, points to a consistent change in trends over the past few years.

In the past, the index pointed to Israelis' complex relationship with religion—identifying with Orthodox Judaism, while at the same time decisively opposing religious coercion. The new data indicate the public doesn't merely seek more freedom in the form of separating religion from government, but also less religion in general.

For example, over the past two years, there has been a decrease in respondents who said they'd choose an Orthodox wedding for themselves and their children—from 68% in 2015 to only 50% in 2017. On the other hand, the number of respondents who support civil marriages rose from 19% to 30%.

Conversely, 86% said the state should ensure freedom of religion and conscience for all of its citizens, while 65% called to grant Reform and Conservative Jews equal status and recognition to that of Orthodox Jews (67% supported non-Orthodox marriage; 52% supported non-Orthodox kashrut supervision; and 49% supported non-Orthodox conversion).

Fifty-eight percent said they noticed an increase in religious elements in the secular education system and defined it as "religionization" (46% supported that trend). While at the same time, 78% said they were in favor of including Jewish heritage studies in state schools, but only if students are taught about the different approaches to this heritage—secular, Orthodox and non-Orthodox.
Majority wants all schools to teach core curriculum
While seeking more religious freedoms for themselves, a great majority of Israelis (82%) believe ultra-Orthodox education institutions must be required to teach core curriculum subjects, while 84% of them called to deny state budgets (entirely or partially) from schools or yeshivot who refuse to teach subjects such as math, English and science.

Regarding representation in the Knesset, 79% said the law should be amended to ensure the inclusion of women in every party, including Haredi factions.

Respondents were asked for their opinion on draft exemptions given to the ultra-Orthodox, with 36% calling to conscript all yeshiva students into full IDF service, while 33% said they should at the very least be required to complete national service. Seventeen percent accept the existing situation, in which ultra-Orthodox men and women can receive an exemption for religious reasons, while 14% were in favor of setting a cap on "prodigy" yeshiva students who will receive an exemption from service, while conscripting the others.

Debating the issue of public transportation on Shabbat, the Jewish day of rest, 45% were in support of limited service, 28% said buses and trains should run on the weekend as they do on weekdays, 19% said they were happy with the status quo and 8% said they wanted to cancel the existing Saturday public transportation.

In their private lives, 48% of respondents said they observe the Shabbat, with 27% observing it according to the Halacha (Jewish law) and 21% partially adhere to the Halacha by reciting the kiddush prayer and lighting Shabbat candles. Meanwhile, 29% said they consider Shabbat "a special day of rest," while 23% see it as a "regular day off" or a "day like all days."

In the wake of the crisis between the Israeli government and American Jews over the conversion bill and the freeze of the Western Wall egalitarian area plan, the survey examined the public's views on the involvement of Diaspora Jewry in Israel's internal affairs and of the promotion of their agenda on matters of religion and state. Fifty-five percent said they supported Diaspora Jewry's involvement, while 45% were against it.
'Serious gap between the public and the government'
The Religion & State Index, conducted by Rafi Smith and Olga Paniel from the Smith Institute, polled 800 respondents, both men and women, who make up a representative sample of the adult Jewish population in Israel (the margin of error is 3.5%).
"The index's findings clearly present the serious gap between the public's views and the positions and comments made by the government on issues of religion and state," said Uri Regev, the director of Hiddush.
"The public's criticism and frustration is increasing," Regev continued. "The public is looking for constitutional protection and governmental protection in the form of a secular state education council and cooperation with Diaspora Jews to promote the freedom of religion and equality."
"The index reveals that the government's policies are not merely in complete contradiction with the public's wishes—including those of the coalition's voters—but constitute an increasing threat to democracy, undermine the rule of law and erode Israel's relations with the Diaspora," he added.